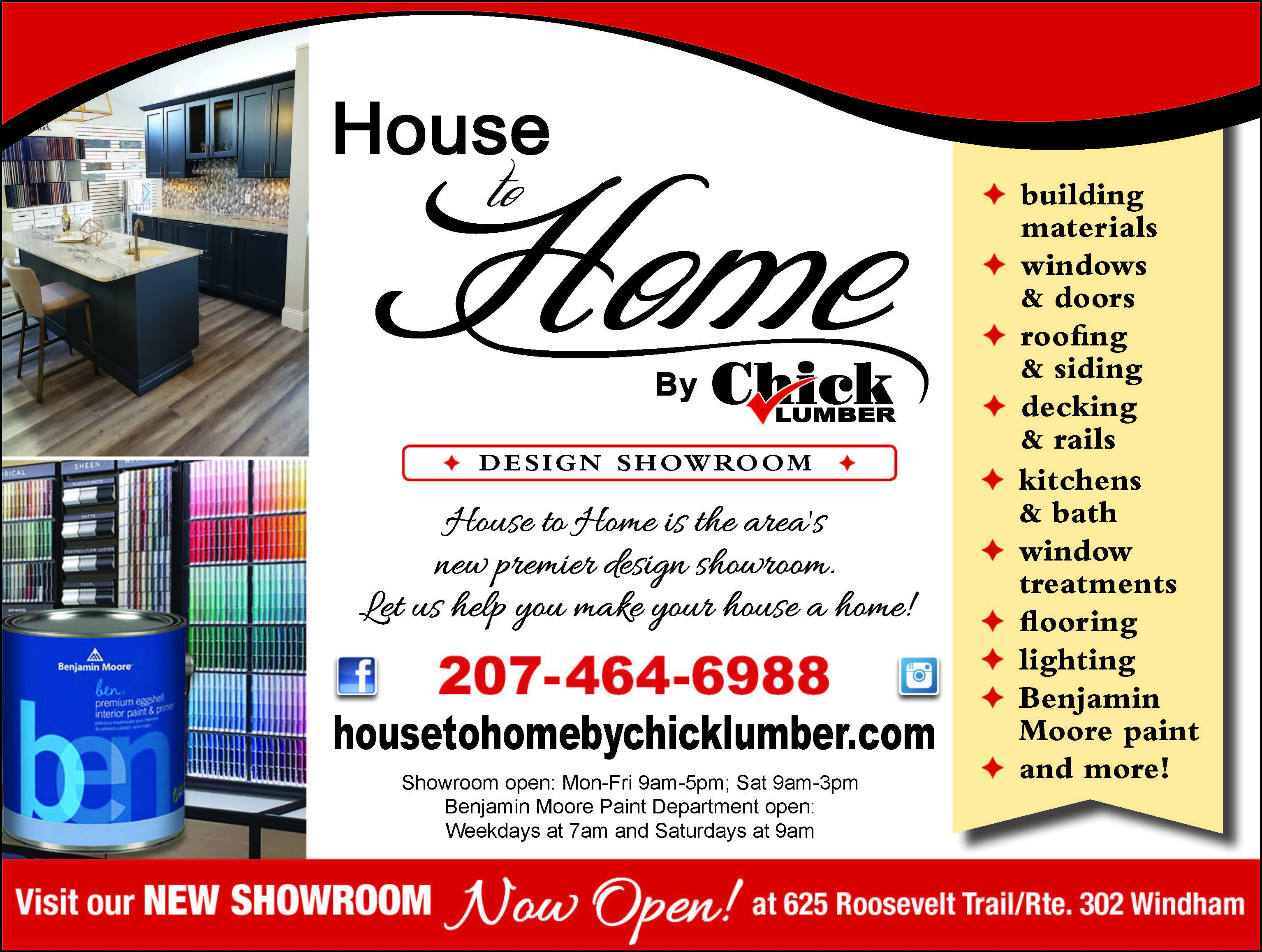 By Lorraine Glowczak
Renovating your home is an exciting adventure. But without expert guidance, it can also be an
overwhelming project that comes with many sleepless nights and a lot of anxiety. Whether you are updating your kitchen, bathroom, roof or simply repainting the exterior of your house, there are so many options available. It's difficult to know where to begin to make the perfect choice for what you envision. That's where the friendly experts of House to Home by Chick Lumber at 625 Roosevelt Trail in Windham come in and save the day.
"A lot of places, such as the big box stores, do not offer the personalized services we provide," stated professional designer, Marion Shea. "But, here at House to Home, we help people every step of the way – from start to finish. We make it our goal that when you walk into our showroom, we greet you immediately and provide the warmth and attention you deserve – it's like walking into your own home."
Chick Lumber was originally established in New Hampshire in 1870 with the present outdoor lumber yard located at 209 Hobs Street in Conway. Moving forward 143 years, the present Chick Lumber company was purchased by Sal and Jackie Massa in 2013, creating the House to Home showroom as an addition to their list of services. The North Conway showroom location is at 1618 White Mountain Highway.
"Our highly qualified team of experts specializes in providing focused attention to our customers," stated Jackie. "Our business has grown a lot in the past six years and, as a result, we saw the need to expand into Maine."
Mike Harmon, the local Sales Manager who had a big hand in opening the Windham location, explained further. "We have been growing and expanding into Maine for the last couple of years," he began. "We have had so many requests from and work with contractors from Bethel to York that we determined it would be good to accommodate the needs of the area and it's for this reason we have opened the additional location right here in Windham."
Their fast-growing success not only stems from the friendly hands-on service they provide but everyone who is part of the Chick Lumber team are experts in home renovation, including the owners. "Sal grew up in the field," explained Jackie. "His family owned a flooring company in Massachusetts, and he worked at the family store at a very young age. Sal was hired by Chick Lumber in 1998. He started working in the flooring department and worked his way up to contractor sales, becoming the Vice President of the company in 2009."
Jackie Massa has a degree in Residential Design. Whether it is new construction or a remodel, Jackie will be with you every step of the way putting the homeowner at ease. Jackie makes sure that the process of making your house into a home is as stress free as possible. What sets Jackie apart is her ability to take into consideration what her customers want while incorporating style, quality, function, and infusion of the space with warmth and most importantly, a sense of home. Jackie has always had a natural talent for colors, but she wanted to take it one step further by becoming a Certified Color Expert. With this additional certificate under her belt, she now offers
home color consultations using Benjamin Moore's enticing colors.
As for the rest of her staff, Jackie stated she has a lot of confidence and trusts their expert abilities.
In addition to the Massa's, Shea and Harmon, the other team members and specialists you will find in the Windham House to Home Showroom includes: Kat Milvo, professional designer; Stephen Roberge; paint specialists, and Ryan Gleason, millwork and outside sales.
At House to Home by Chick Lumber, the one stop shopping services provided include the following: Kitchens/bath, flooring, window treatments, lighting/fans, windows, doors, siding, roofing, Benjamin Moore Paints and decorative hardware and more.
As their website states, "Our House to Home showroom offers you a look at the latest in kitchen cabinets, vanities, countertops, decking, railing, roofing, hardwood, tile and carpeting options… among everything else that goes into making your house a home."
Be sure to attend their open house on May 17 from 11 a.m. to 4 p.m. for a BBQ, prizes and giveaways. And, perhaps more importantly, to meet the expert House to Home team that will be happy to serve you. For more information, contact the team at 207-464-6988 or at their website:
www.housetohomebychicklumber.com/