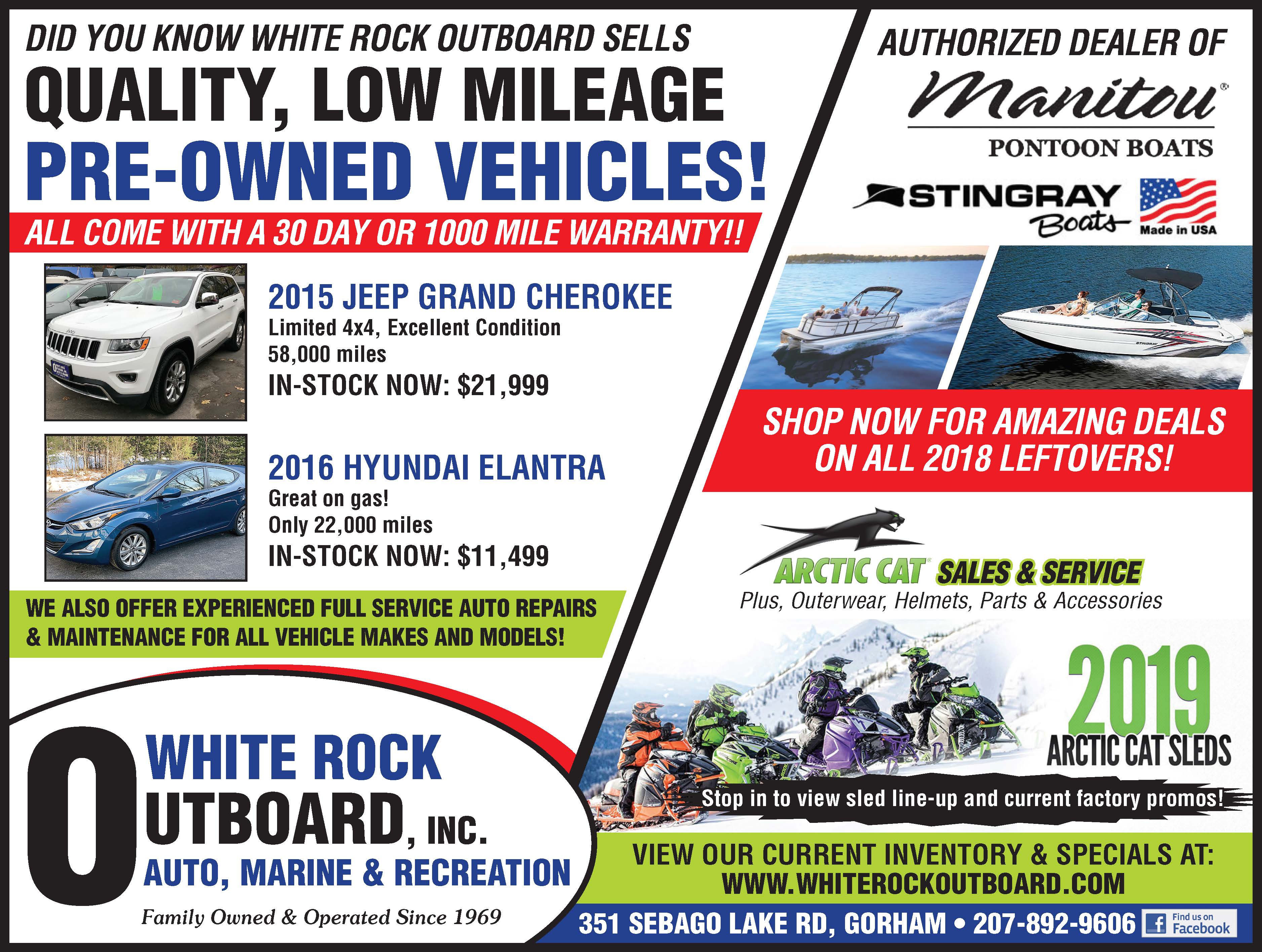 By Gayle Plummer
What do little girls and auto, marine and recreational products have in common? Well, the answer is plenty! At least that's how it is when it comes to owner, Sally Gherardi and her successful, family-owned business that is located at 351 Sebago Lake Road in Gorham on Route 237. "I basically grew up at the shop with my Dad, so I've been around the business all my life.
I have had the opportunity over the years to learn about the business and take that knowledge and apply it today," Sally tells us.
Sally's parents, George and Brenda Gherardi started the business in 1969 by selling Snow Prince and Moto Ski snowmobiles. Later they took on Glassmaster boats and Chrysler outboards and boats. In 1989 George and Brenda added the Manitou pontoon boat line, since they were starting to be a popular choice for boaters. It was in 1993 they began selling Stingray power boats and in 1997 added the Arctic Cat line of snowmobiles and ATVs to the inventory; along with all the parts and accessories to go with each line they carried. The business still sells Manitou pontoon boats, Arctic Cat snowmobiles and ATVs, Stingray power boats and Mercury outboards today.
White Rock Outboard Auto and Marine is a full service repair shop for all of the products they sell, including Ariens snow blowers along with other small engines.
Sally Gherardi
"All of our current employees have considerable work experience in their fields and are the "best of the best". Customers come back to us repeatedly due to the exceptional service they receive. We are very well known for our service," Sally shared.
Sally said, "When my folks owned the business my Dad would always go that extra mile to make a customer happy; whether it meant staying open later or delivering a boat after hours. I want to make sure customers have that same experience in the years to come."

Surpassing customers' expectations is what White Rock Outboard staff strives for; and they want the experience to be fun for the customer as well.
Just some of the services offered are: Winterization and storage, de-winterization, boat detailing, fiberglass/gelcoat repair, emergency pick-up, tire repair/installation, shrink wrapping, summarization, full engine repair, pre-season inspections and boat launch/haul out service; just to name a few. The sales department for all units offers both new and used units to sell and White Rock offers the latest innovations in boating technology.
Sally says, "I plan to continue running the business as it currently is, with the hopes of expanding the used car sales portion. We have been a used car dealer for over 30 years and I would like to see that continue into the future. One thing that makes us stand out above other similar businesses is our Service Department. Not only do we service snowmobiles, ATVs and boats but we also have a complete Automotive Service Bay. We do anything from alignments and brakes, to engine and drive train repair. We have a highly qualified mechanic, Brian Bragg who has been with us since 1995. All of our technicians take pride in the work they do and strive to complete jobs in a timely manner. All of my employees are always willing to help out when needed. We continue to earn new customers through word of mouth from people not only in the area, but also out of state."
This year will mark 50 years of business for White Rock Outboard. Come join in the big celebration planned for the end of the summer or early fall! The 40 year celebration was a huge success and White Rock is inviting all of their customers, and potential customers, to come have lunch with them and help them celebrate 50 years of being a family owned/operated business. Sally says she is very much looking forward to this year's big event!
Their hours are: Monday through Friday 8:00 to 5:00 p.m. and Saturday from 8:00 until 2:00 p.m.

Email address: whiterockoutboard@gmail.com, or call them at: 207/892-9606.