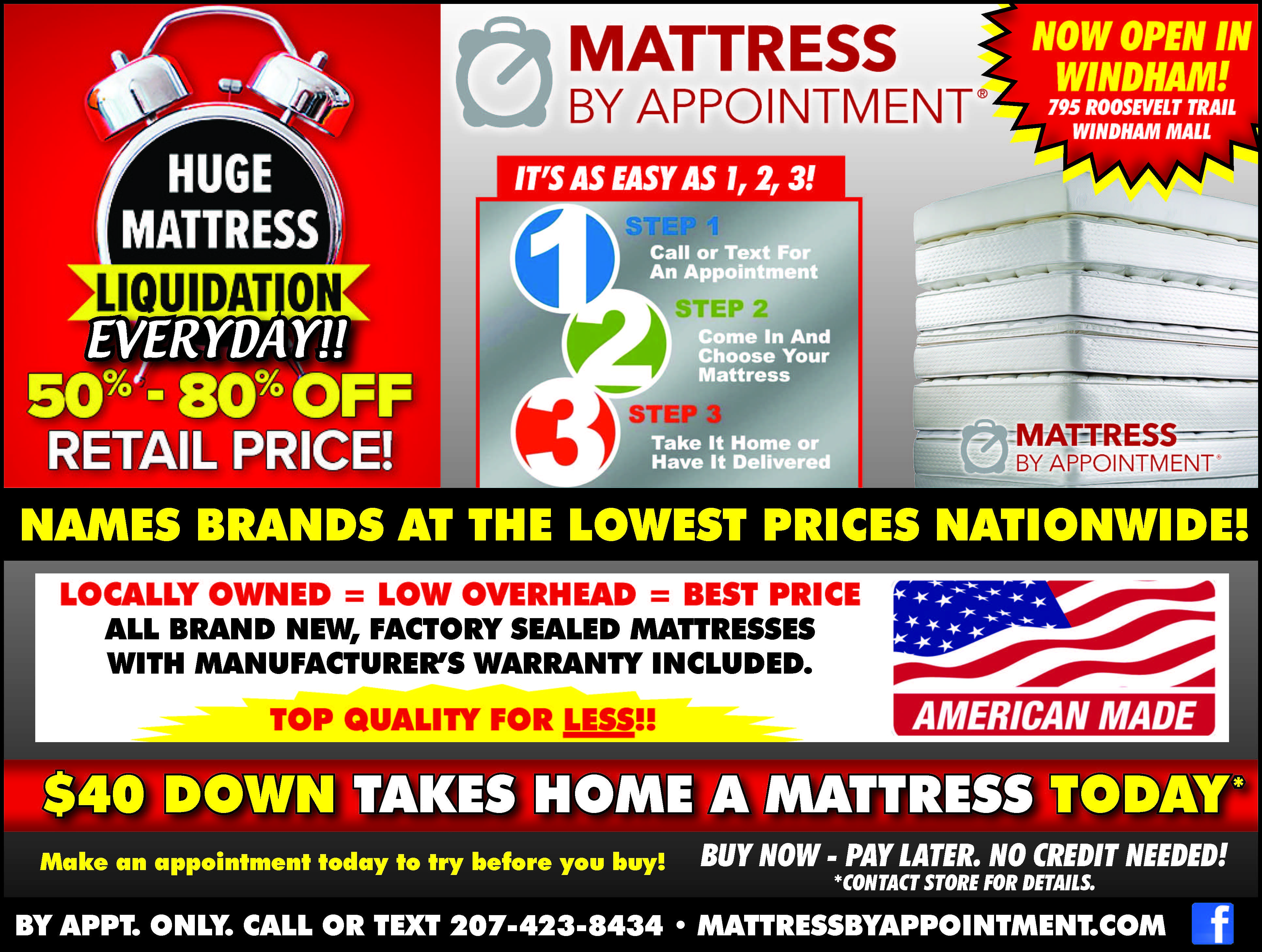 By Gayle Plummer
There are always the typical large purchases we all must make in life: cars, appliances, furniture and mattresses. Usually those buying experiences are not fun experiences for us. After all, they require research, dealing with aggressive sales people (most times) and of course, parting with a large amount of our hard-earned cash.
One new business in the area is helping the community alleviate all the above problems when it's time to buy a mattress. Dewey and Denise Kopenga are a husband/wife team who has opened Mattress By Appointment in the Windham Mall (near Smitty's) at 795 Roosevelt Trail.
Dewey and Denise have another store in Biddeford that has been open for a year and they offer all the major brands at far below traditional retail costs. They can offer 50 to 80 percent off retail prices every day.
Dewey states that they maintain extremely low overhead by reducing high overhead costs. They have no employees, large fancy storefronts and they don't run expensive TV ads or do any major advertising. Dewey says, "Our store is no frills. You won't see balloons, free coffee and cookies or sales people in suits here; we keep our prices low by cutting costs and keeping overhead as low as possible. Also, we have huge buying power with the manufacturers, every mattress is made in the United States and they all come with warranties."
Mattress By Appointment offers a wide variety of mattresses. Styles include pillow tops to gels and everything in between and in twin, full, queen and king sizes. They can also offer special sizes for campers, camps and summer homes.
Box springs or foundations are always included in the price and they also offer delivery, in most cases, the same day.
"We want folks to have a smooth, easy, stress-free transaction," shared Denise. "Let's face it, buying a new mattress is not fun for anybody. If you let us help you, we can save you money, time and stress by using our formula which is:

Step 1-Call or Text 207-423-8434. Step 2-Come in and choose your mattress. Step 3-Take it home or have it delivered. We do offer financing with a $40 down /100 days, same as cash financing. That's all there is to it."
Owners, Denise and Dewey Kopenga
Because their storefront is pretty much non-existent, Dewey reported that, ". . . at first some people were skeptical of the business model but once inside they quickly change their minds and they came out with extra money in their pocket and a new, quality mattress to sleep on in approximately 10 -15 minutes, which is typically all the time it takes."
Dewey and Denise had both come from the corporate world, for over 20 years, when they became interested in the mattress business. Dewey says, "We wanted to be involved in a business that would allow us to spend more time with the family while offering a product that everybody needs at a fair price. With Mattress By Appointment, I feel that it is a win/win situation for us and the customer."
Dewey and Denise are excited to serve this community as they have been doing in Biddeford for the past year; and they are hoping to grow their business to other southern Maine locations over time.
You can find lots of great reviews on Facebook and you are invited to visit the website at: www.mattressbyappointment.com or call for an appointment at: (207)423-8434. Visit both locations: 1) Windham @795 Roosevelt Trail, Windham Mall; 2) 40 Main St. Biddeford – Inside the Pepperell Mill.