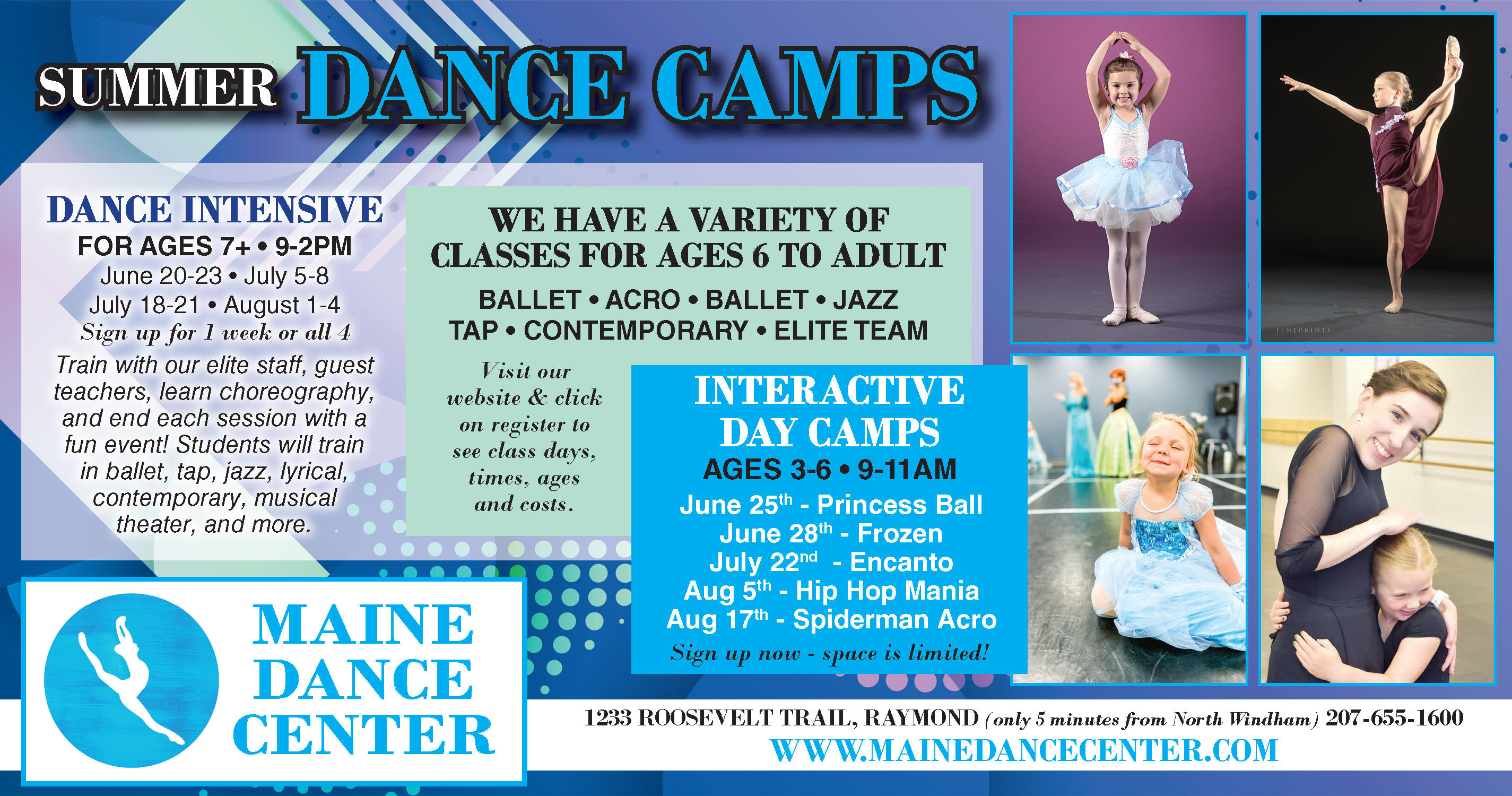 By Gayle Plummer
The new year is here and many of us have some fresh new goals or visions for ourselves, or maybe we just want to perfect something we love doing - maybe dance. There is a new business in the area that can help. If you have or someone you know has a love for dance, then the new Maine Dance Center (MDC) is very close by and would love to help. Center Stage Performing Arts, ran for 15 years and is now under new management and has a new name. It is now the Maine Dance Center and it is in the same location in the Raymond Shopping Plaza, and now entering its 16
th
year.
Rhiannon Pelletier, Artistic Director of the Maine Dance Center has been completely dedicated to dance for as long as she can remember. Rhiannon has been classically trained in ballet by Linda MacArthur Miele (a former pupil of George Balanchine and Artistic Director of the Maine State Ballet). She has also been formally trained in tap, jazz and musical theater.
"Our focus at MDC is for all of our students to develop a lifelong love of dance. Anyone, at any age, can enjoy dancing and our goal is to nourish that joy in a wholesome family environment; while encouraging our more serious students to become the best dancers they can be. We offer an educational, challenging and fun classroom environment, conducted by an outstanding teaching faculty," Rhiannon said.
About the faculty, Rhiannon reports that, "Maine Dance Center has added some of the greatest talents in the state to our team. In our first year we have quickly established a diverse, yet cohesive team of professionals that are passionate about their work and want nothing more than to see their students thrive. The emphasis here is that this dance center is fresh, redesigned and revamped; it is not the same dance studio it was before. However, at the same time, there are many of the same, familiar faces that the community knows and loves. We all have a clear vision for what we want to do at MDC."
Rhiannon's background is extensive with experiences that demonstrate her love of dance. She was born, raised and trained in Maine; and reached the pinnacle of her ballet career in her home state by achieving the title of Principal Ballerina with the Maine State Ballet at the age of 19. She was one of the youngest dancers to join the Maine State Ballet Company at age 14.
By age 21 she expanded her repertoire to include roles such as: Aurora in "Sleeping Beauty," Swanhilda in "Coppelia," Sugar Plum and Dew Drop in "The Nutcracker," Kitri in "Don Quixote. She was also soloist in Balanchine's "Serenade," Princess Odette and Odile in "Swan Lake."
This spring she will add the title role of "Cinderella" to her repertoire. She has been in programs with the American Academy of Ballet, Boston Ballet and continues to expand her training by attending workshops in Portland, Boston and New York. She has taught classes with local studios for over eight years and loves working with children of all ages.
Rhiannon Pelletier
Rhiannon also has a passion for entrepreneurship. She obtained her bachelor's degree from St. Joseph's College in writing/publishing and a minor in business administration. She runs her own online business as well as balancing Maine Dance Center and her involvement with Maine State Ballet. However, Rhiannon says, "Maine Dance Center is the first priority for me because I'm thrilled to be able to give back to the Southern Maine community through an art form that has given me so much."
There is excitement in the air as Maine Dance Center will be releasing the summer schedule very soon. They will be hosting a Leap! Camp and a Princess Camp for little ones. There are many guest teachers planned as well as a lot of fun projects coming this summer!
To learn more or to register for classes call 207-655-1600, email mainedancecenter@gmail.com or visit www.mainedancecenter.com. The studio is open weekdays from 3 p.m. to 8:30 p.m. and Saturdays from 8:30 a.m. to noon.