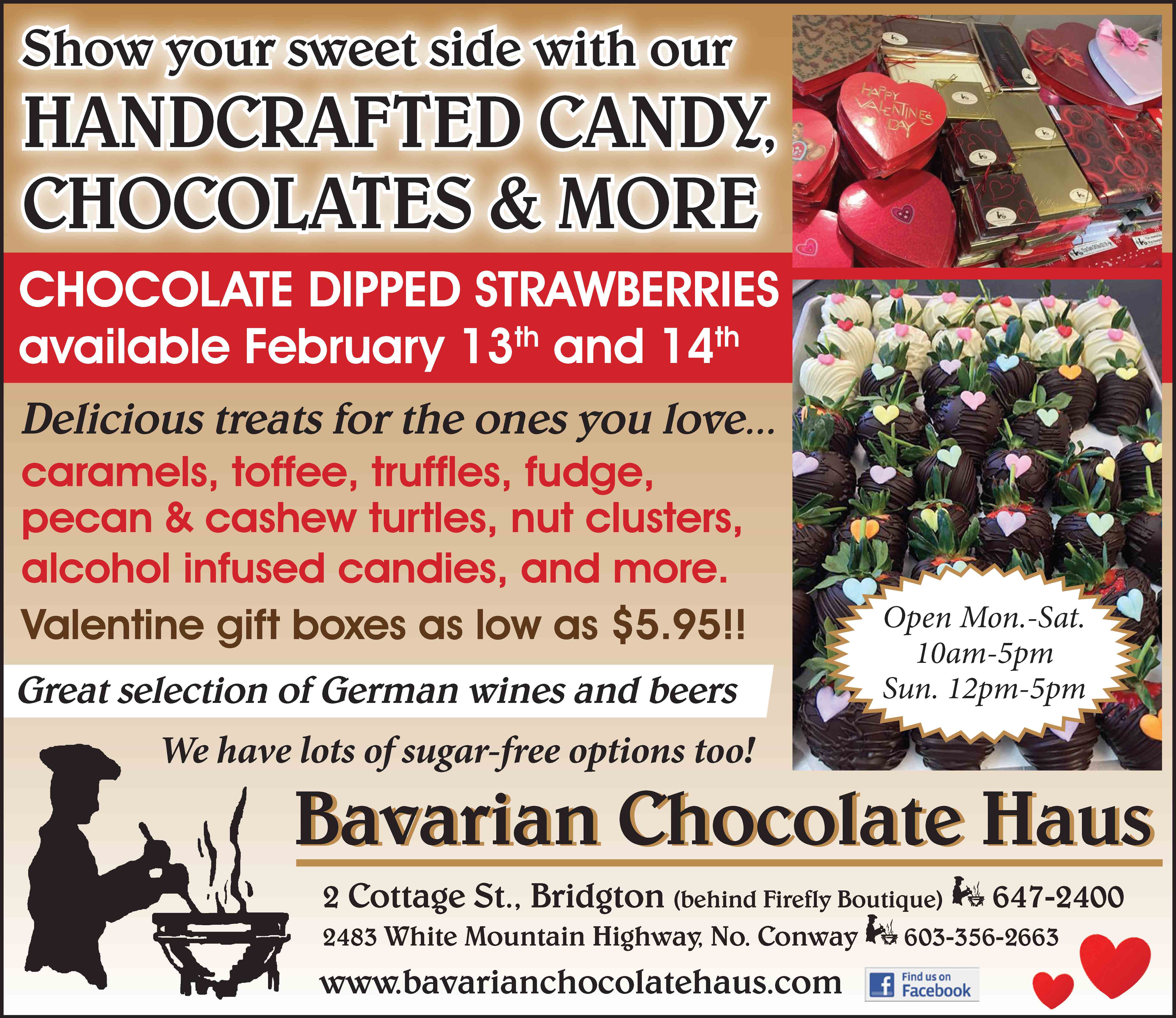 For almost a year, Bridgtonites and other nearby Maine towns have known a little secret about a place to get authentic German chocolate and the best caramels and toffee in the region. What once was only available in North Conway, New Hampshire, is available at 2 Cottage Street, behind the Firefly Boutique in Bridgton.
Bavarian Chocolate Haus is owned by Scott Ferrari and his spouse, who bought the North Conway based store in October 2008 from the first owner, who had started the candy shop in 1991. The building stands out with its unique style based on houses in the Bavarian region of Germany.
"[The name came from] the combination of the style of the building, the German chocolate recipe and the surrounding area in North Conway," Ferrari said.
The original owner was a chocolatier and he created a list of recipes and passed them on to Ferrari, who agreed to keep the quality of the candy by using many of the original recipes.
"Your fudge, caramel and toffee can make you or break you," Ferrari said. "There's a lot of work to that, using quality control and strict standard practices to make it right."
Bavarian Chocolate Haus still makes its homemade fudge in copper kettles. The traditional method and the recipe, using heavy cream, sugar and milk, make the fudge unique and creamy. There are at least 10 different flavors.
"We have over 100 different candies," Ferrari said. Each of them is made in either the North Conway store or the Bridgton shop. However, both stores carry the full compliment of candies. Ferrari, as well as truffle-makers David and Lorraine, make more than 20,000 pounds of candy each year.
They make golden-vanilla caramels in plain chocolate or with Maine sea salt. They make their own almond toffee, called buttercrunch, with dark or milk chocolate. They make turtles with pecans or cashews. There are unique hand-dipped fruits like apricots, pineapples, orange peels and ginger. Try the nut clusters with a choice of almonds, cashews, hazelnuts or pecans. There are also pistachio, apricot and almond barks.
The most popular candies are the almond toffee buttercrunch. The second favorite is the caramels and third, the turtles. There are so many more delights to discover in the store. Try a cinnamon spice patty or a peanut butter cup. There are 15 different flavored truffles; some are spiked with alcohol like Bailey's Irish Crème, Amaretto, or go without the alcohol and try a Maine sea salt or a Maine Blueberry Habanero truffle.
"I've always been a chocaholic. I had thought about [opening a shop], but didn't expect to do this," Ferrari said. After 30 years in the medical field, he was ready to make the life change from Massachusetts to the White Mountains of New Hampshire and now into Maine.
"I love food and I love to cook," he added. "What I love about this business is when I worked in the operating room, I was helping people but reached a point where it was time to help others in a different way. I love making people happy with chocolate. People come in happy and leave even happier. They become a kid in a candy store."
Ferrari and his team are always creating a new truffle flavor or other confection including our newest fudge flavors chocolate coconut and our Mount Washington Medley Fudge. This is a vanilla based fudge, and mixed into it are maraschino cherries, pecans and rum soaked raisins.

They also created a version of needhams from a family recipe gifted to them from a Maine native.
The secret to their success has been the loyal following who say that they can tell the difference from other chocolate shops and big store candy.
The demand for good chocolate was so loud from Maine, that Ferrari and his spouse decided to move into the lakes region. The Bavarian Chocolate Haus is a regular feature at the Fryeburg Fair and the shop in Bridgton has been busy. "More folks from Maine insisted we open a shop in Maine. They said, 'We don't have anything like this in the Sebago Lake part of Maine,'" Ferrari said. They decided on Bridgton because of its revitalization and transformation. They want to be a part of that.
Bavarian Chocolate Haus chocolate can also be found at local businesses, bed and breakfasts and hotels in Maine and New Hampshire. There is also an online store, where products can be shipped all over the country. The website is presently going through a major redesign to make getting chocolate even easier.
"We make it easy for people to get a hold of our candy," Ferrari said.
"We look forward to seeing you in our shops," Ferrari said.