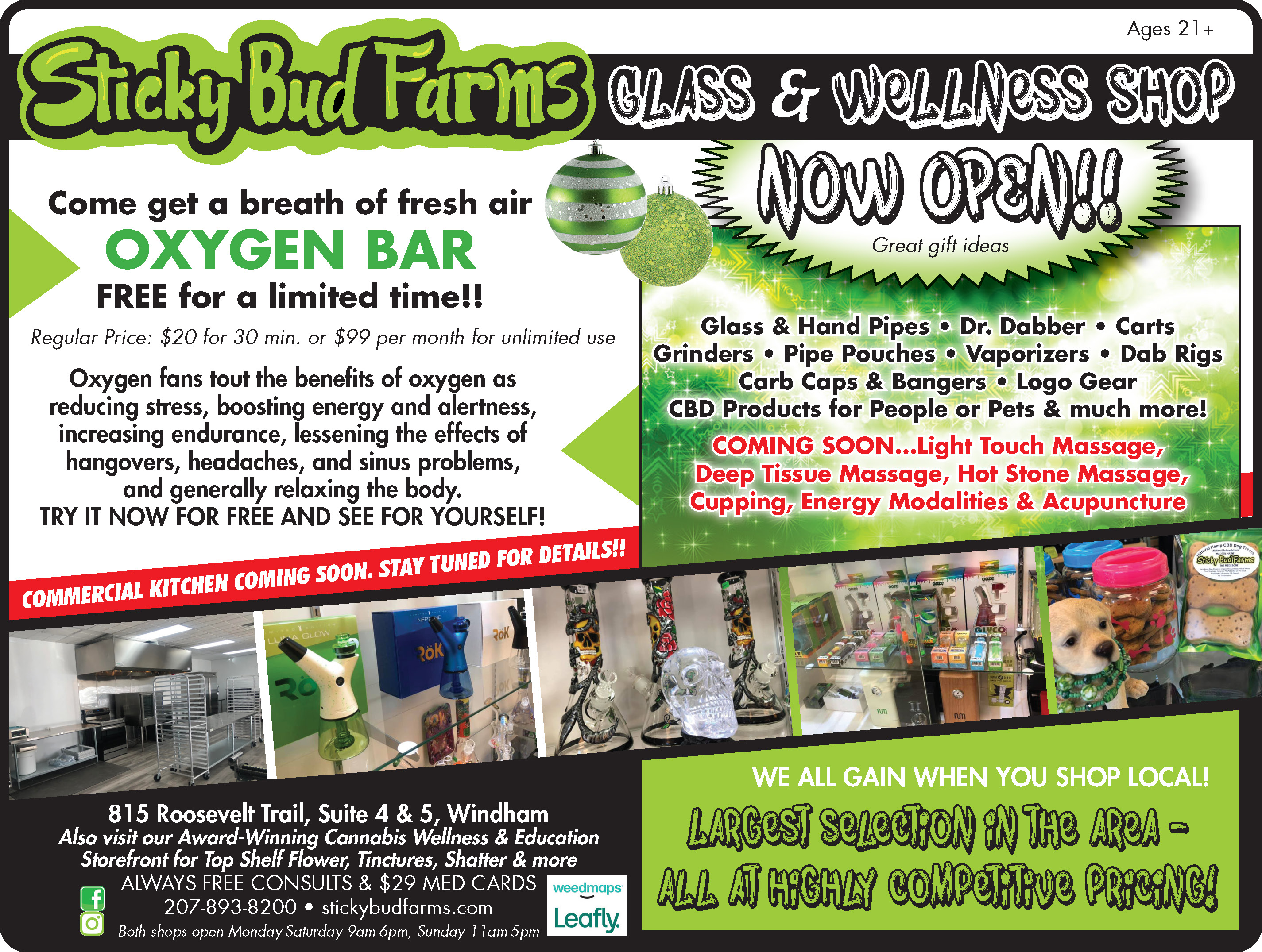 O
wners of Sticky Bud Farms Dave and Judy Whitten are advocates and educators when it comes to medical cannabis. The new business at 815 Roosevelt Trail in Windham, seeks to provide alternative means to help those with chronic conditions.
Medical cannabis is a holistic and non-addictive way for people with a medical certification card and a qualifying condition such as anxiety/PTSD, chronic pain, epilepsy, and many others to get relief.
Although Dave cannot make any medical claims, many people swear by the results from using their products. It has become a safer, non-addictive alternative to opiate prescription drugs for chronic pain or post-surgery pain management. For $99 people can be checked by a medical doctor and given a medical cannabis card if the person has a qualifying medical condition. The Whittens receive no financial gain from having the doctor in the shop on Saturday mornings. They offer it as a service to the community.
"Times are changing," Dave said. "Medical marijuana is a health and human service issue. Unlike big pharmaceutical companies, it's not about money, it's purely about helping people."
Sticky Bud Farms is a caregiver storefront that sells not only medical cannabis but gifts, accessories, glassware, vaporizers, apparel and CBD products that are non-psychotropic and legal for anyone to purchase. The store does have medicine here for those who want it, but Dave is quick to say they are not a dispensary. The space is open, clean bright and a friendly, welcoming environment. There is no hard sell.
"I change people's lives on a daily basis by helping them," Dave said. He works with combat veterans for their PTSD and cancer patients. Most of the clients are from ages 30 to 70. Dave is very knowledgeable in the field of medical cannabis and CBD and has expertise in preparing specific blends of products for treating specific needs. Having the ability to customize products based off specific ailments is what makes this business unique.
CBD salves and tinctures are hemp based. They produce no high, no side effects and do not require a medical card. CBD is legal in all 50 states and is gaining popularity due to its miraculous results relieving conditions for all ages and even pets. They make hemp dog bones for pets with anxiety, arthritis and other pain issues. All of the edibles and candies are made at a commercial kitchen in Portland and they have won many awards and cups over the last three years. In 2016, Dave was awarded the Outstanding Excellence in Caregiving by the Maine Green Cross and the Medical Marijuana Caregivers of Maine Trade Association.
Another unique service provided by Sticky Bud Farms is an Oxygen Bar. Currently there are eight aromas bottled for different effects with more arriving weekly. Sticky Bud Farms consulted with a licensed respiratory therapist before starting the bar.

A customer sits and inhales the oxygen scented with up to two scents at a time. The scents vary from Zen and Invigorating to Pure O2 and Sex on the Beach.
"I fell in love with oxygen," Dave said. It's a great way to add in a little relaxation and mental clarity to your day.
"It makes people more alert, more focused," Dave said. The oxygen bar is used for hangovers, recovery from workouts and a way to relax. "It's a nice break in the midst of a busy day."
Dave is available for free consultations about how his products can help. "Education is part of this. It's not just smoking weed anymore," he said. "Just talk to us about it. We want to educate."
Although the store isn't a grow location, they are happy to answer questions about growing, preparations, medical cannabis and how hemp can help improve quality of life.
For more information about Sticky Bud Farms, call 893-8200 or stop by Monday through Friday from 11 a.m. to 7 p.m. and Saturdays from 9 a.m. to 5 p.m. and Sundays from 10 a.m. to 2 p.m. Visit them on Facebook where they post many educational articles which will help you see if their products can help you live a healthier, happier life.