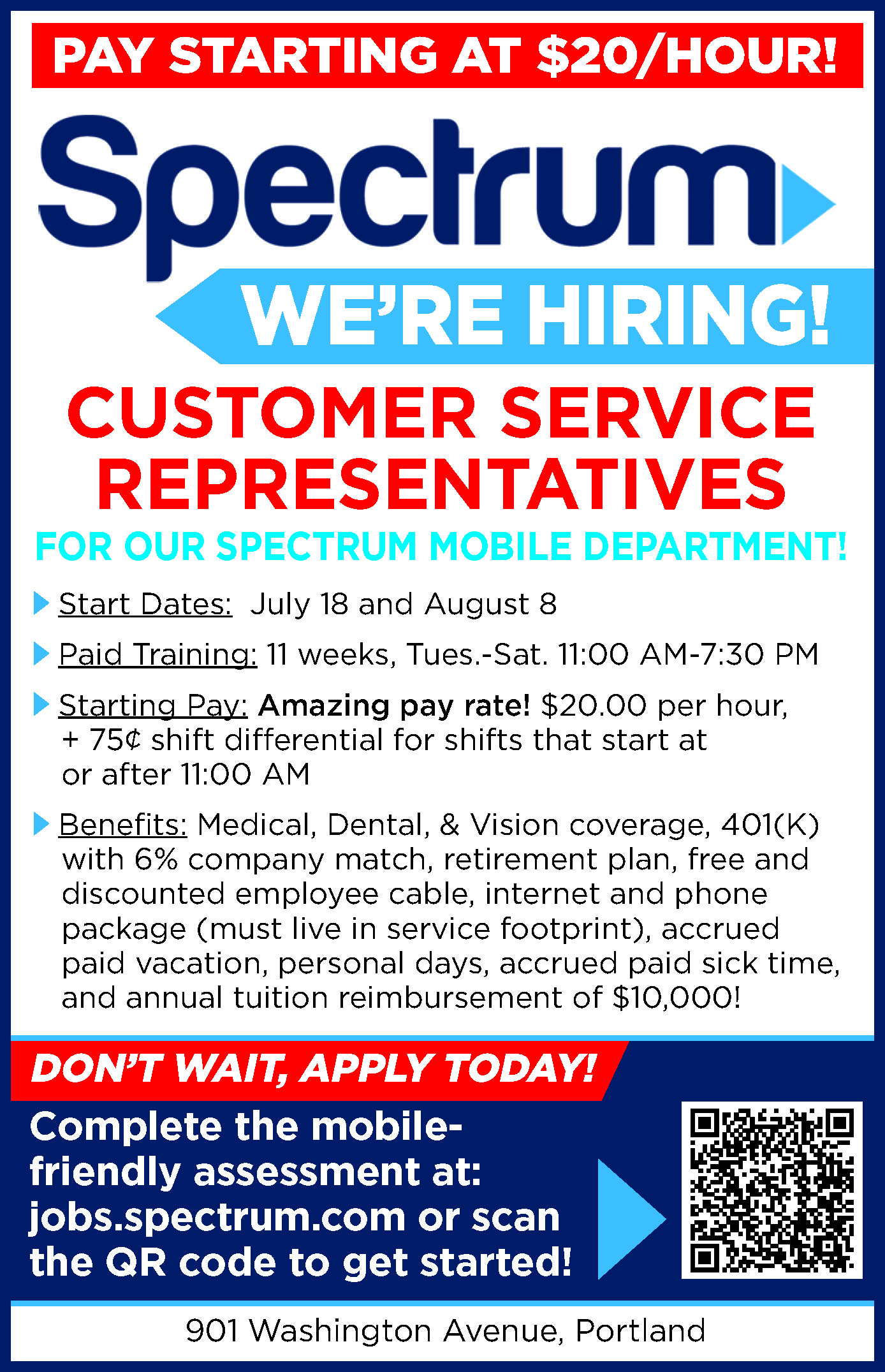 S
pectrum is already a household name as the region's leading provider of cutting-edge TV, Internet and Voice services. For those looking for a new challenge, Spectrum is also a great place to start a new career.
"We're hiring," said Spectrum recruiter Heather Devereaux. "We're in the process of growing our local workforce, and we're actively recruiting talented, motivated team members dedicated to providing superior customer service."
Spectrum is the suite of advanced broadband services offered by Stamford, Conn.-based Charter Communications, Inc. With over 92,000 employees serving 26 million customers in 41 states, Spectrum is America's fastest-growing TV, internet and voice company.
Nationally, Spectrum is adding 20,000 jobs by returning call center jobs to the United States, insourcing its workforce and growing to meet customer demand for its products and services. Spectrum is a Fortune 100 company and was voted on of Forbes 112 Best Places to Work.
Here in Maine, Spectrum employs over 800 people and is adding 120 full-time jobs at its Portland call center on Washington Avenue. The hiring spree will nearly double the number of customer-service representatives at the center.
For job seekers committed to providing customers with the best service possible, Spectrum has a lot to offer. The company offers competitive starting pay, comprehensive training and a generous benefits and vacation/time off package. Benefits include medical, dental, vision, 401(k) with a company match, tuition reimbursement up to $5,250 annually, and free/discounted Spectrum TV, Internet and Voice services.
"This is a great place to start a career, or to launch a second career," Devereaux said. "There's a great opportunity for advancement, to learn and grow, and to take on greater challenges. Many of our top-performing employees have been with the company for years."
The Portland Call Center handles billing inquiries from customers in multiple states. Customer-service agents set achievable, performance-based goals every month, which helps to determine career progression, raises and more.
Starting customer-service agents receive 200 hours of training, including role-playing and listening to live calls. Call center supervisors are invested in their team members' growth and success, and meet regularly with each agent to discuss what is going well and what tools they need to be successful. Top performers and employee goals are highlighted on TV sets at the entrance to the building.
There is a team culture at the call center, Devereaux said. Each agent has their own cubicle that they can decorate it however they wish. New people are welcomed and their team genuinely wants to know about them. Everyone works hard as they take care of customers from Presque Isle to Kansas City.
"We're always celebrating our team members' accomplishments," Devereaux said. "The Portland call center is among the top-performing Spectrum call centers. At the end of the day, we strive to provide superior customer service, and we have fun doing it."
So what is Spectrum looking for in job applicants? The best customer-service agents are people who are serious about a career, who are kind, compassionate and empathetic – and dedicated to helping customers. Prior customer-service experience is not necessary, but it doesn't hurt, either.
To be considered, applicants must be eligible to work in the United States, be at least 18 years old, and possess great communication and computer skills. Applicants can apply online and will need to pass a 57-minute assessment, along with a pre-employment drug screen and background check, to be considered for full-time employment. A Spectrum recruiter will also conduct a phone interview to make sure that Spectrum is a great fit for both parties.
In Portland, Spectrum is currently hiring for the 12:30 p.m. to 9 p.m. full-time shift at the call center. The pay is $14 per hour with a 75-cent shift differential. The company is also hiring for a number of open positions across Maine, including field technicians.