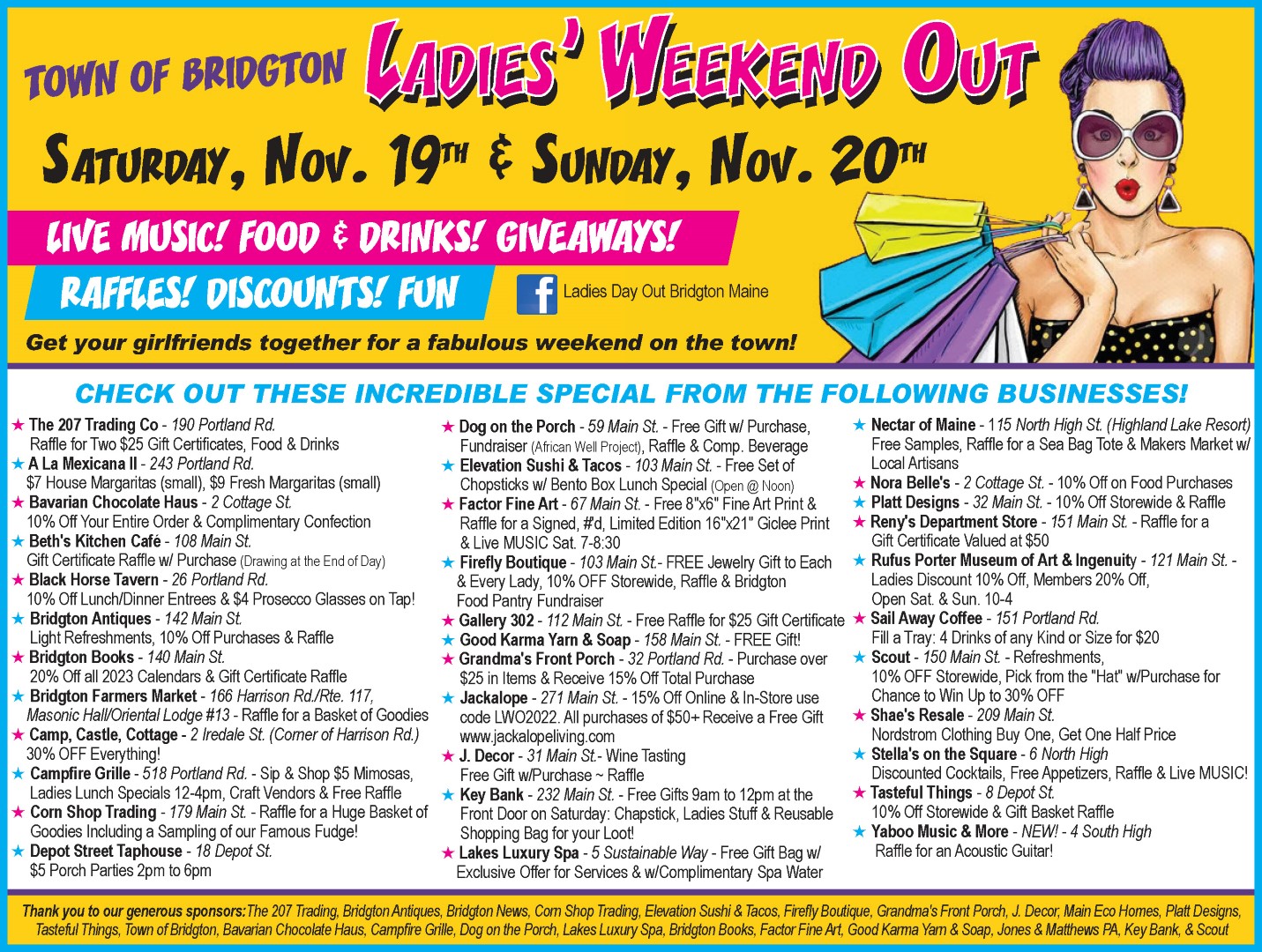 It's a lovely drive to reach Firefly Boutique on Route 302 in Bridgton and once there, it's not a place easily forgotten. Under the direction of owner Jessica Jones, Firefly Boutique is a rare collection of gifts and items to spark up a wardrobe or add pizazz to the everyday or provide flare when looking for something distinctive.
The boutique has many collections from local artists featuring jewelry, clothing and upscale bags and purses. They have items from all over the world that Jones brings back from her trips abroad. The inventory is always changing, always shifting to new and different items that keep her loyal customers coming back week after week.
"I like color. We all get stuck in a rut wearing black," Jones said. She looks for items that are comfortable and classic and are made in the USA. "We have 50 different lines," she added. Items come in extra small to extended sizes. "I never know what I'm going to find."
Jones never expected to be in retail, although it was deep in her blood. Many members of her family, including her grandparents, had their own shops.
With one year in the present location, on the main street through Bridgton, the business has grown tremendously since opening in 2009.

The over 1,200 square foot shop is packed from top to bottom with beautiful items for women of all ages.
"People can get to us more easily and with two cafés nearby it makes even more of a good shopping experience," Jones said. She compared her store to boutiques in California, Miami or New York. "It's not typical of what you'd see in Maine."

Words like unique, US made, fair trade and handcrafted describe what can be found in the two-room store. It is not a cookie cutter shop. Firefly Boutique carries items from Ivy Water's Edge Gallery, Kim Vigneau, Sara Shepley Designs, Designs by Diana, Sally Bags and more. There are handmade children's dresses by Ellia Manners, paper earrings, and Yushi clothing is the largest line they carry.
The most popular items and one would argue the most distinctive, are the jewelry pieces featuring butterfly wings. The wings are from tropical butterfly farms within a rain forest and are gathered only after dying naturally, according to the artists who make the jewelry, then encased in glass and surrounded with sterling silver.
"We have the largest collection in New England," Jones said.
Katelyn Jager, sales and Jessica Jones, owner (L-R)
There is also jewelry made from antique silverware, Czech glass, scarves, and Austrian Swarovski crystals that are made into gleaming wearable art, made in Guatemala.
The store just started selling shoes and has a variety of accessories for any outfit.
"Because it's unique, you can find special gifts and have them wrapped. We're friendly and welcoming and we want to help," Jones said. Jones is looking for professional groups of people to provide items for the store. She'd love to find a group of knitters to produce quality items and someone who makes top of the line handbags.
Jones was named the Greater Bridgton-Lakes Region Chamber of Commerce Business Person of the Year last year. She is involved in many activities to promote the businesses in Bridgton. On June 23 from 3 p.m. to 7 p.m. there will be a Sip and Shop featuring wine tasting at Towanda's and jewelry giveaways at Firefly Boutique. November 18 and 19th will be the Ladies Weekend Out in Bridgton with many shops offering giveaways and raffles as well as sales from 10 a.m. to 5 p.m. daily.
"This should be a fun place to come to. We want people to enjoy their experience.
For more information on Firefly Boutique, check it out on Facebook, by email at:
JessicaOJones77@gmail.com
or call: 207-647-3672.