Cumberland Title Services has been involved in home closings for more than 30 years. Anyone who has purchased a home has most likely used a title company to check the deed to the property, set up the closing and arrange all of the paperwork.
In 2008, Matthew and Randee McDonald purchased Cumberland Title and they haven't looked back.
"I knew this was what I wanted to do in law," said Matthew, who is the lawyer on staff as well as the owner. "Not every title company has a lawyer on staff."
Title companies are often over looked between the realtor and lender, however, clients need to know that they have a choice of title companies when it comes to their home purchase. Matthew recommends that people shop for a title company just like they shop from lenders. "When shopping for a title company you should ask if they have an attorney on staff," he said.
Title companies do three things. The closings, including all of the paperwork, emails and coordination of the buyer, seller. They preside over the closing dispersing the papers and making sure the transaction is complete. They do the title search, which is where they research the property history to assure that the seller has a clear title to the property. They also issue title insurance, which is an insurance policy that says that you are the owner of the property. "That's the only thing backing up your ownership of the property," said Matthew.
Cumberland Title can do closings anywhere in the State of Maine. They have a main office in Portland, but have satellite offices in Brunswick, Lincoln and soon Windham. Their newest office in Windham at 585 Roosevelt Trail, will be open in the next few weeks, according to Randee. The McDonald's have lived in Windham for 10 years. The company has 12 employees. The company is growing and will continue to grow. Matthew has his eye out for a processor for a location in Bangor and one in York County. The company does not have sales people only people who can get things done for their clients.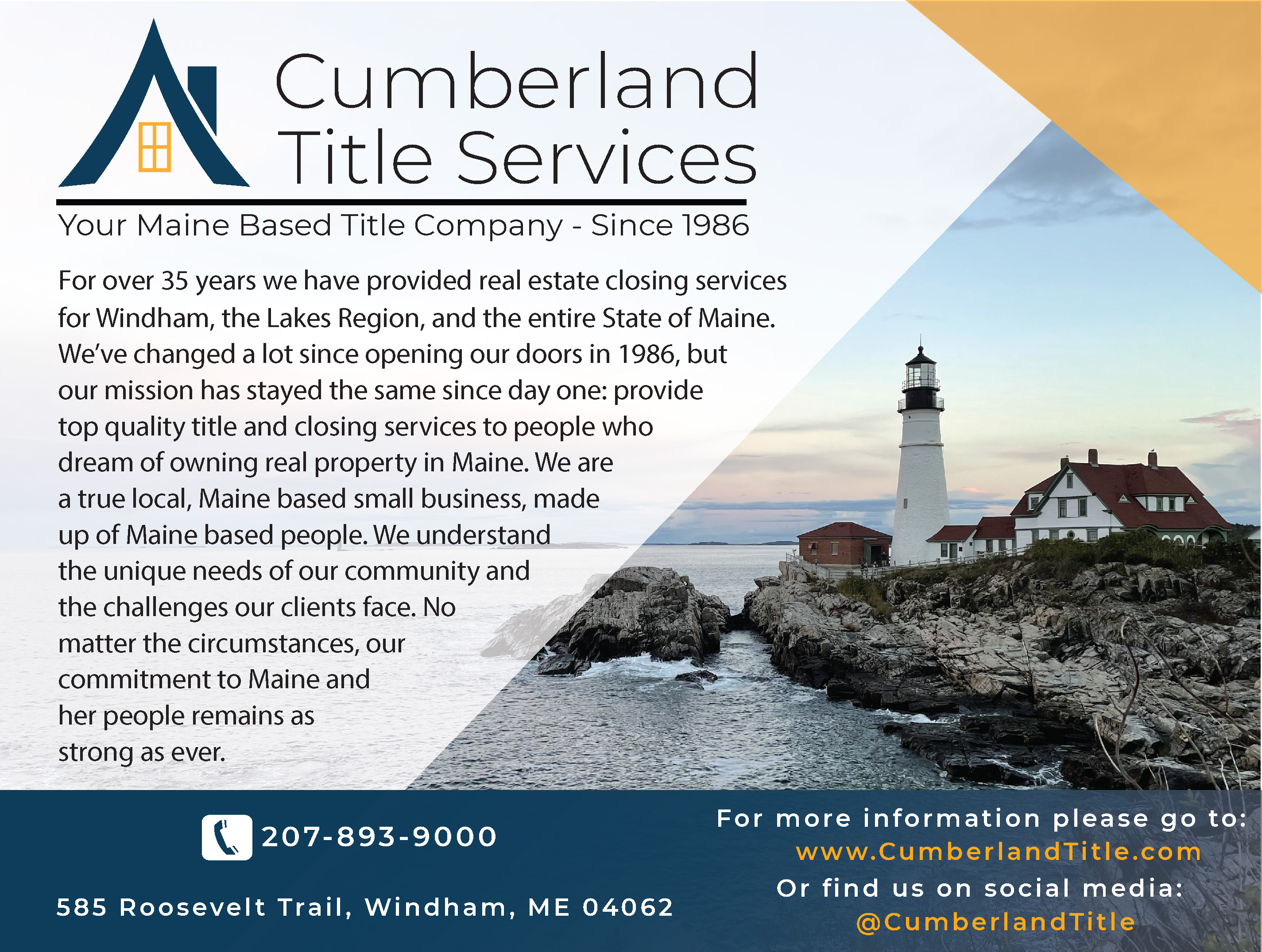 "With 8,500 real estate transactions, we have a deeper level of experience. And we're locally owned," Matthew said. "We are looking to service realtors, home buyers and lenders in the community."
Some lenders own their own title company, but according to Matthew that's not good for the consumer. Check out title companies and don't just follow the lender or realtor blindly.
Cumberland Title has a strong social media presence and has started a YouTube series titled "How to Purchase a Home in Maine." Seven episodes have already been shot. The general series can help novice home buyers to the more advanced.
"The title is a fairly large charge. They should know what we do and how we do it," Randee said.
The company is also involved in a program called Homes for Heroes for military, police, fire, teachers and medical personnel, where they receive an automatic $100 discount. "Those are the people we want living in our communities," Matthew said.
Matthew also does some estate planning, simple will creation, power of attorney and advance healthcare directives for his clients outside of the title services he offers.
Randee is the affiliate director of the Greater Portland Board of Realtors for 2016. The company works with Habitat for Humanity and Woodford Family Services.
"Homeownership is important and good for communities," Matthew said.