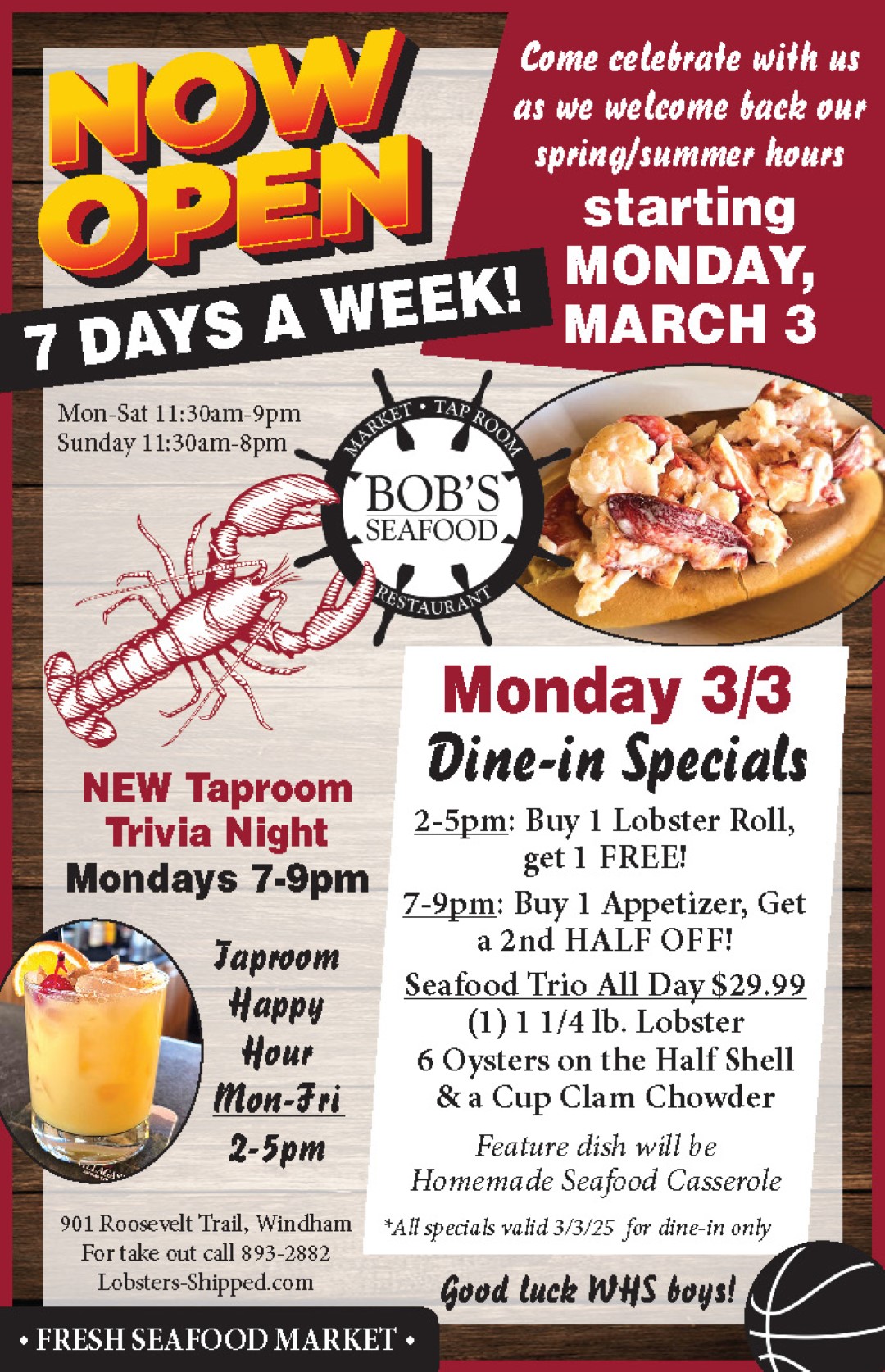 Located in North Windham on Route 302 as one enters the greater Sebago Lakes Region, residents and visitors alike will find a
seafood gem. Bob's Seafood has been a local favorite and vacationer destination since 2002.
Bob's is a
small family owned business now operated by second generation siblings Travis, Derek and Tarah Mathieu. Bob's original concept was to provide Windham and surrounding areas with a fresh seafood market and offer some fried local favorites. It's been a vision of Travis, Derek and Tarah over the past 10 years to expand on the business their parents began.
In September of 2018, their vision became a reality as Bob's Seafood was transformed into a full-scale restaurant, bar and seafood market.

An additional 2,000 square feet was added which permitted a large kitchen expansion, dish room, restrooms and a taproom.
The design was to give customers a modern industrial look while providing them with a casual, warm and cozy atmosphere. The original building was completely remodeled, but some of the original charm and quaint atmosphere was persevered for the guests that prefer that New England style, too.
Bob's new expansion added more than 25 new jobs for seasonal, part-time and full-time positions.
One of the missing components of Bob's in the early days was adult beverages. With the addition of the Taproom; beer, wine and spirits offer another stream of revenue that has not been part of the equation in the past.

The Taproom is very spacious with an eighteen-seat u-shaped bar as the focal point and nine additional tables accommodating up to 38 guests.
Sibblings Travis, Tarah and Derek Mathieu are
second generation owners of Bob's Seafood
The tap lines consist of 8 hand-picked craft beers, many of which are local to Maine. Maine Beer Company Lunch IPA, Allagash White and Bells Amber are amongst the most poured beers followed by the rotating IPA. There is a rotating specialty cocktail menu that changes with the seasons. Bob's Seafood is currently highlighting Tiramisu Martini, Pumpkin White Russian and Maple Walnut Old Fashion.
We are also proud of our outdoor patio which displays a beautiful natural granite wall and a custom-built natural gas fire pit.

It's the perfect spot to "wine" down and enjoy a great outdoor dining experience during those warm summer nights.
Although the addition of beer, wine and spirits has brought in new customers, the food quality keeps people coming back for more. Previously recognized for their award-winning lobster roll, Bob's is also known for their fried clams, scallops and haddock dinners along with hand cut fries and onion rings.
As the building took on a new look the menu did much of the same. With a much larger kitchen, the menu now boasts baked stuffed haddock, sautéed scallops, teriyaki salmon, lobster mac-n-cheese, fish tacos, salads and much more. All menu items are homemade including appetizers, chowders and daily specials.

All food is locally sourced, fresh and made from scratch.

Bob's Seafood takes pride in preparing all their guests' food by hand and as ordered.
A one of a kind, eco-friendly lobster tank was custom built which includes a deep end holding tank and a waterfall to hold and sustain over 1,000 live lobsters as needed.

Bob's sells live and cooked lobsters ranging in size from one to four-pound jumbo, in any quantities.
Bob's Seafood takes pride in the seafood selection - offering wild caught, chemical free, local, natural and organic seafood. The fresh seafood case is stocked with fresh haddock along with Wester Ross natural salmon fillets, fresh swordfish, dry sea scallops, day boat halibut, lobster meat, crab meat, homemade crab stuffed mushrooms, stuffed clams, native steamers, mussels, oysters and more!
Bob's Seafood can bring in special order fish or customize an order with advance notice.

There is a Frozen market as well offering Alaskan king crab legs, native shrimp, clam cakes, crab cakes, crab meat stuffing, shrimp cocktail, tiger shrimp, local smoked mussels, and chopped sea clams. Bob's Seafood has all the supplies in house and the ability to pack fresh seafood for road trips and overnight traveling trips whether the customer is flying or driving.
Bob's Seafood is now open year-round. Winter dining hours are Tuesday through Saturday from 11 a.m. to 9 p.m. and Sundays from 11 a.m. to 8 p.m. The restaurant is closed on Mondays. Summer hours from Memorial Day through Labor Day are Monday through Saturday 11 a.m to 9 p.m. and Sundays 11 a.m. to 8 p.m.
The fish market opens daily at 9 a.m. or by appointment.

If you're traveling for the holidays or need a great gift idea, Bob's Seafood also ships live lobsters and fresh seafood via Fed-Ex next day air anywhere in the United States.

For more information call Bob's at 207-893-2882 or visit their website at lobsters-shipped.com