Maine's largest title company, Red Door Title, remains successful because it treats each buyer, seller, and borrower it works with as if they are family.

With 18 offices in New England and 11 here in Maine, Red Door Title handles real estate transactions and title searches for buyers, borrowers, and sellers. Its staff has the expertise, resources, and experience to make even the most challenging transactions run smoothly and delivers an exceptional level of customer service is that unmatched in this industry.
"The best thing about what we do is being able to see people get excited about getting into buying a property, whether it's vacation homes or their primary residence," said Melanie Tromblee, Red Door Title's owner. "Our greatest concern these days is that there's a lot of fraud and deception in the industry right now and we have to keep on our toes to protect ourselves and our clients."
Making the process as easy as possible is the goal of Red Door Title, which is now expanding to better serve residents in the Lakes Region. The company started 10 ½ years ago with just two employees and now has 65 employees.
Tromblee says only specializing in real estate title work and the company's willingness to be flexible in its hours is the key to Red Door Title's continuing popularity with buyers, sellers, and borrowers.
"We work seven days a week and are not a 9 to 5 shop," she said. "We're always available and answer our emails all weekend long. We're there when our clients need us."
She said that Red Door Title is a Maine-based title company and all the company's closers and many of its staff are Maine notaries. Additionally, the Red Door Title team receives extensive and continuing training to stay current on all borrowing procedures and real estate transaction laws.
Joey Nelson is a closer with Red Door Title and has been doing title work in the Lakes Region for a few years now. He knows the unique needs of clients in this area, is involved with the Sebago Lakes Region Chamber of Commerce, and grew up coming to Sebago regularly.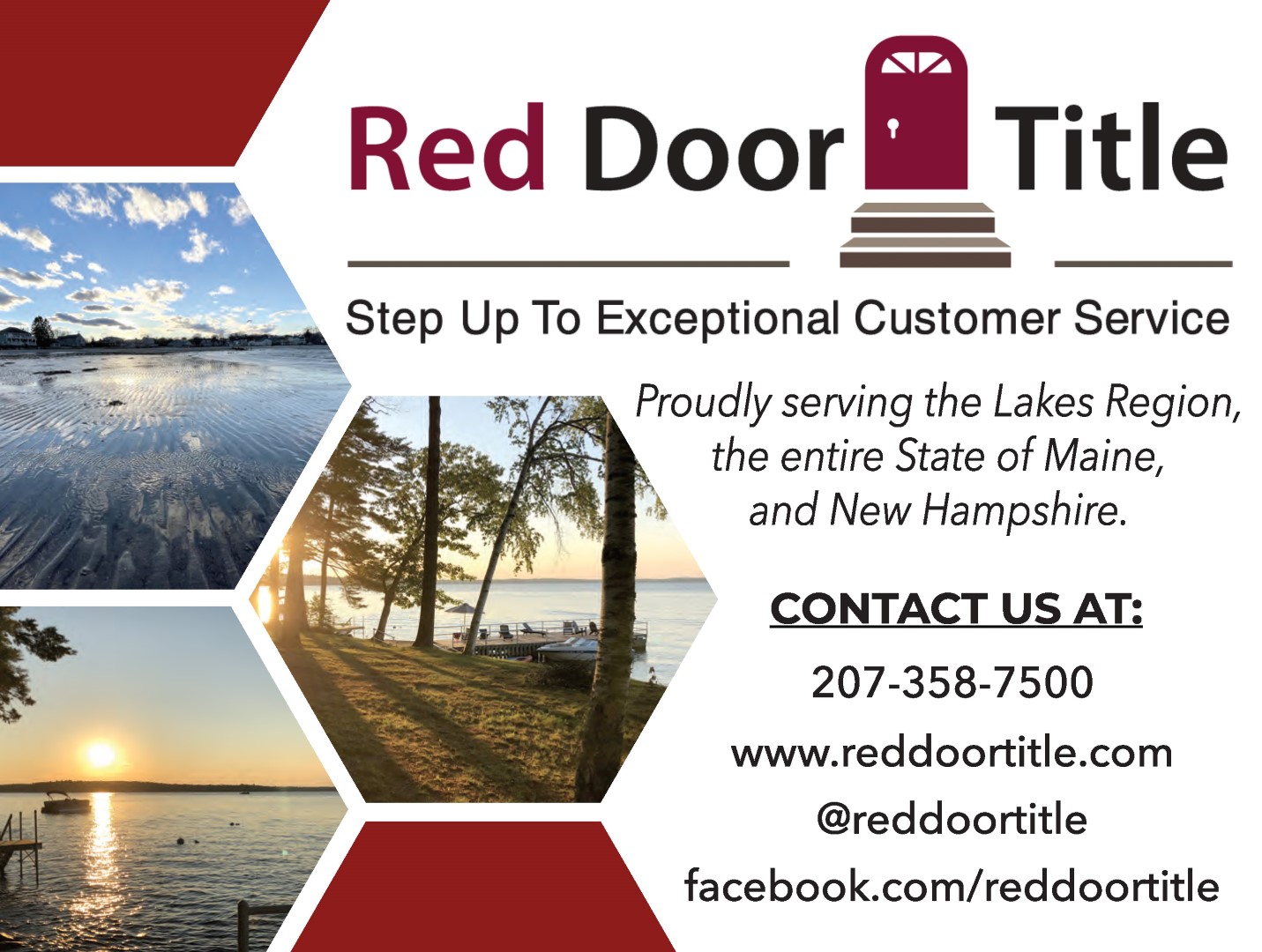 Nelson says that his goal is to bring the exceptional quality of Red Door Title to more clients in this area.
"We have a policy against saying 'no' and our closers, processors, and our entire staff work as a team to make sure all parties are satisfied and smiling at the end of the day," Nelson said. "One of the nice things about being the largest title company in Maine is having the resources that we do. We have hundreds of years of combined title experience, and while some title companies only have one attorney on staff, we have several. At the end of the day this means that when an issue arises on a real estate transaction, we have the expertise to know how to handle it correctly. We are also very proud to be a women-founded company."
According to Nelson, the amount of behind-the-scenes work that Red Door Title employees perform daily has been instrumental in making the experience for their clients so outstanding and affordable too.
"Unlike our competitors, we have not raised our prices in over 10 years, even as inflation has increased in the last few years," he said. "In fact, we will always beat or match any competitor's price. Additionally, we never charge bogus fees or travel fees. We are unmatched in our customer service and the quality and thoroughness of our work. We will do everything in our power to make sure that issues are resolved, our clients are happy, and our closings are smooth. This is really what we are known for, and this is what keeps our clients coming back to work with us."
Nelson said that there is a great deal of uncertainty in the economy right now, but he believes we are moving in the direction of a more balanced housing market.
"We always keep our finger on the pulse of what is happening in real estate. There is lots of uncertainty in the economy right now, but I feel that we are headed towards a more balanced housing market," he said. "While it seems like everything has gotten more expensive lately, we offer huge discounts for our clients, including first-time home buyer discounts and veteran discounts. We also offer discounts to new clients, and we will match or beat any competitor's price."
For more information about Red Door Title, call 207-358-7500 or visit
https://reddoortitle.com/
Find them on Facebook at
https://www.facebook.com/RedDoorTitle
or on Instagram at
https://www.instagram.com/reddoortitle/
or
https://www.instagram.com/joeynelsonreddoor/
<