One of the best kept secrets in the Lakes Region is Hometown Furnishing Co., a multi-vendor furniture and decor shop in Standish that specializes in painted furniture along with farmhouse, vintage, local and handmade items.
Hometown Furnishing Co. is located in a beautiful historic
building at 1 Ossipee Trail East at the intersection of
Routes 35 and 25 in Standish. SUBMITTED PHOTO
Situated in a 7,000-square-foot historic building in the center of Standish at 1 Ossipee Trail East, Hometown Furnishing Co. is preparing to host a Holiday Open House on Saturday, Nov. 12 and on Sunday, Nov. 13 to showcase the abundance of gifts and treasures that can be found inside the building.
"It's typically one of our busiest weekends for holiday shopping," said Eric Rollins of Hometown Furnishing Co. "We have 50 different vendors and prices range from $2 Christmas ornaments all the way up to $1,600 farm tables."
Rollins said that Hometown Furnishing Co. also updates, paints and revitalizes furniture that customers bring in, along with building custom tables and barn doors. A selection of vintage restored furniture can also be purchased there.
"We also carry a line of Farmhouse furniture paint for customers that would like to do it themselves," he said.
Visiting the store is an interior decorator's dream, as everything needed to redesign either a room or an entire home can be found at Hometown Furnishing Co. There are accent items, chairs, dressers and tables available and it's exactly what you may be looking for either to freshen up an existing look or to recreate something new.
It's simply a great place to find antiques, arts and crafts, farmhouse furniture all locally sourced and wonderfully displayed. There is a very friendly atmosphere and vibe about Hometown Furnishing Co. and it's a go-to location to find some exceptional creations by local artists.
The building itself that Hometown Furnishing Co. is located in offers 18 rooms with three floors of merchandise to peruse and an elevator to get up and down. It formerly was owned by the Thompson Family for more than 200 years and was one of the most historic buildings in Standish.
Hometown Furnishing Co. opened at the site in April 2021 and has four employees.
"The misconception is that people think we just have furniture or antiques, but we truly have something for everyone," Rollins said. "We're involved in the community, keep up with trends and listen to our customers."
As part of a commitment to community involvement, Hometown Furnishing Co, offers Maker's Markets in-season which feature local craftsmen and artists set up to sell their handcrafted and locally produced goods.
Social media reviews posted online for Hometown Furnishing Co. are nothing less than outstanding.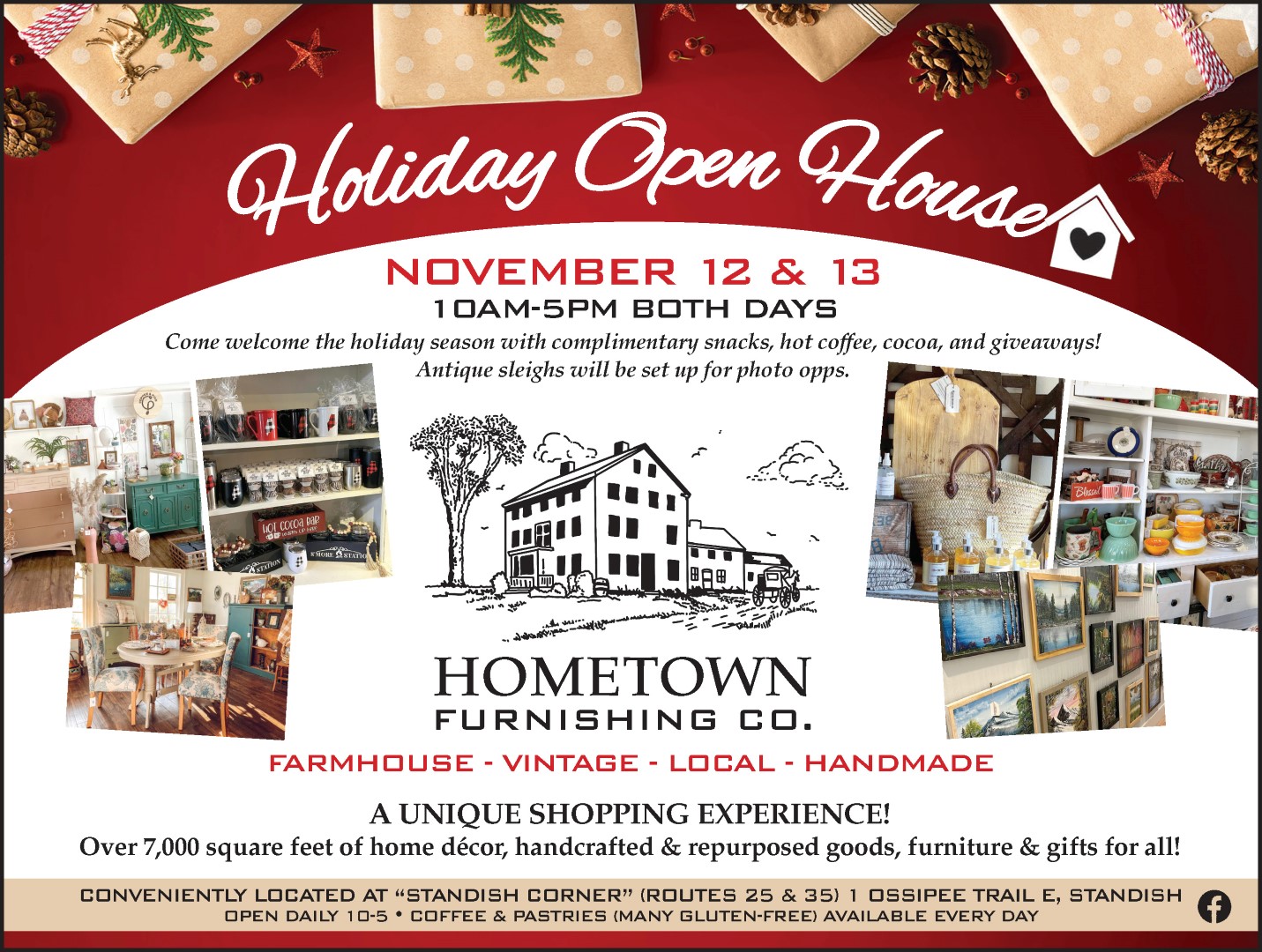 "My favorite, local shop! Such a happy, warm, welcoming space, and the vendors do a fantastic job of curating so many beautiful items for your home." Jen Cianchette Gironda

"My new favorite place in Standish. I was in heaven as soon as I walked in. Great coffee and so many unique finds on three floors. The staff were so friendly and helpful. Highly recommend." Kristen Blanchard

"Love the custom window shelf I ordered. It's the perfect spot to memorialize our recently departed best girl! Scheduling a pickup time was easy and we spent some time exploring every room. Such an eclectic mix of treasures! Will definitely be going back!" Terina Dobson

Rollins said that the Holiday Open House is an annual event, and everyone is welcome to stop in to see what treasures are available for gift giving this year at Hometown Furnishing Co.
"Join us here at Hometown Furnishing Company for this two-day event as we welcome the holiday season with snacks, beverages, and giveaways," Rollins said. "All our wonderful vendors will be fully stocked with new, handmade, vintage and antique holiday decor and gift giving goods. We will even have an antique sleigh or two for photo opportunities."
Hometown Furnishing Co. is open from 10 a.m. to 5 p.m. seven days a week and custom furniture refinishing is always available.
For more information about Hometown Furnishing Co. call 207-229-0617 or find them on Facebook at
https://www.facebook.com/hometownfurnishingco/
<