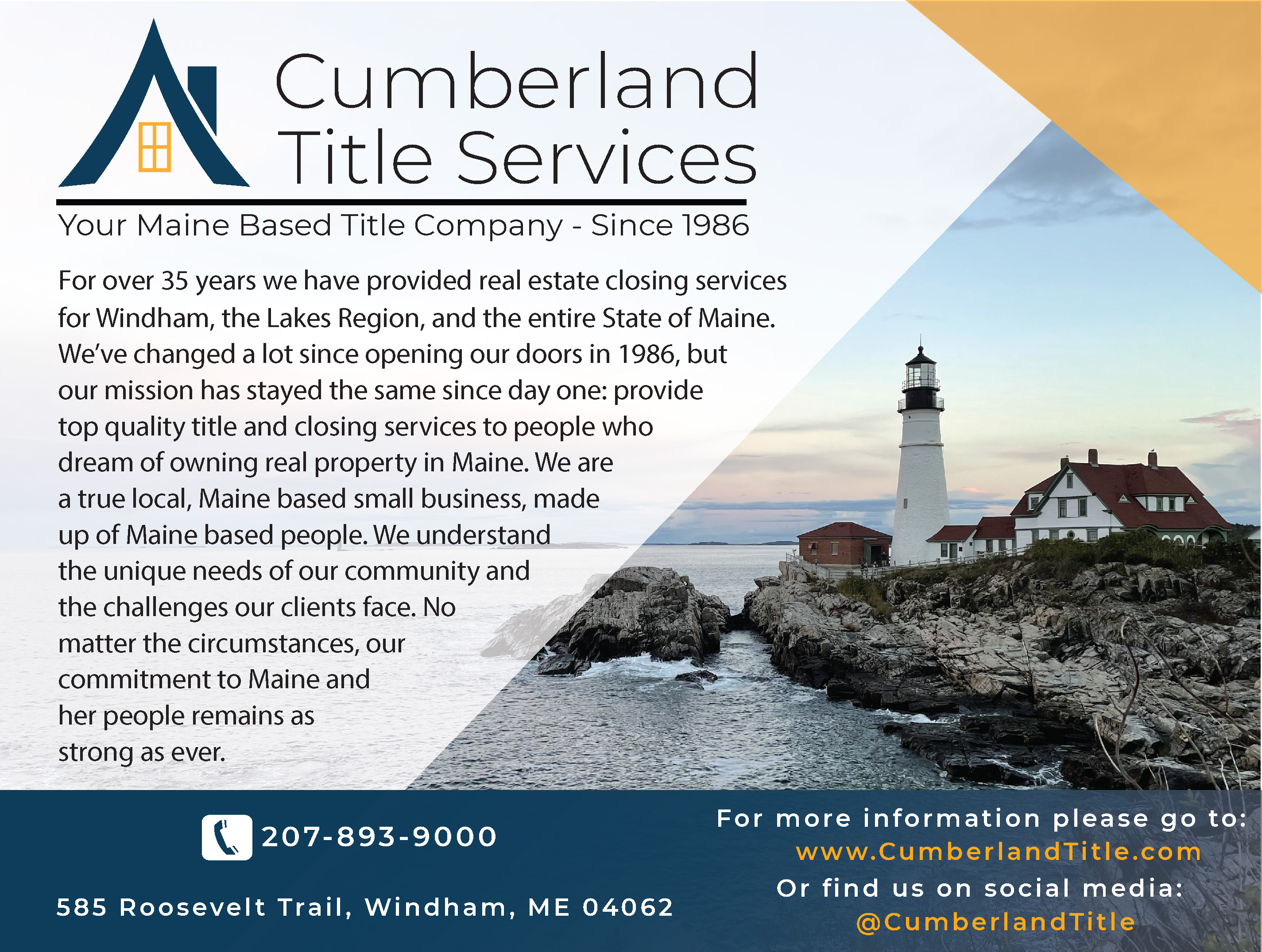 The leading provider of title services throughout Maine is under new ownership and remains committed to developing strong and trustworthy relationships with everyone they serve while also continuing to be a great place to work for its employees.

Ownership of the company recently transitioned from Matthew J. McDonald, Esq., to Thomas E. Schoening III, Esq., who brings a wealth of experience working for other title companies in Maine and the Portland-based Law firm of Drummond & Drummond, LLP. Former owner McDonald will continue to be involved with Cumberland Title, performing closings and continuing education classes for real estate professionals.

With six convenient locations in Maine, including its main office at 585 Roosevelt Trail in Windham, Cumberland Title acts as an intermediary between mortgage loan officers and real estate agents to do everything necessary to facilitate real estate closings.

Its customers rely on Cumberland Title to go above and beyond to make sure the actual parties buying and selling real estate enjoy a smooth closing process. The company also assists investors and private parties with cash closings and other commercial real estate transactions.
Thomas E. Schoening III, Esq., is the new owner
of Cumberland Title Services.
SUBMITTED PHOTO
According to Schoening, modern residential real estate closings have over the years become a fairly complicated process. The stack of documents to be signed at the closing table just keeps getting bigger. It's our job to make sure the all the documents and steps related to the transaction, including the purchase and sale agreements, title insurance, home insurance, and mortgage financing, come together in a seamless way.
"We help Mainers and people from all over the world realize their dream of owning property in Maine," Schoening said. "We want people to know that this company has been around since 1986, and the ownership change signals growth and a renewed commitment to being the gold standard title company of Maine."
Schoening said that there is no better feeling than doing a closing for first-time homebuyers and new families and helping them realize their dream of purchasing their first home.
"Homebuyers rely on their mortgage loan officers and real estate agent to help them with the most complicated, expensive and stressful financial transaction of their lives," he said. "Mortgage loan officers and real estate agents in turn rely on Cumberland Title to make sure the closing process is completed accurately, smoothly and on time. We take this responsibility very seriously and have earned the trust of our customer relationships. The most valuable assets of Cumberland Title are the personal relationships between our employees and the mortgage loan officers and real estate agents that we serve."
Because there is significant competition in the industry, the company's commitment to customer relationships and providing the highest quality services is what sets Cumberland Title apart," Schoening said.

"We are also very proud to be 100 percent owned and operated by Mainers. We are a true Maine owned small business serving the entire state," he said. "Working with Cumberland Title is just more personal than working with a large national title company."

The greatest misconception people often have about our service relates to title insurance, Schoening said. "People think title insurance is really expensive and that they don't really need it," he said. "That's not the case. Title Insurance truly protects a person's title (ownership) in their home, often the greatest financial investment a person will make in their lifetime."

Offering competitive fees and superior quality service to its customers, Cumberland Title Services strives to ensure a home buying process that is as worry free and smooth as possible.

"As a title company we have a front row seat to the real estate market. We've seen the housing market boom in the past few years, with historically low interest rates. We have enjoyed seeing the high number of young families and first-time home buyers establish roots in Windham, Raymond and the greater Lakes Region. With the influx of new families, we see the local area continuing to flourish as a vibrant community for families and businesses for many years to come," Schoening said. There is still plenty of opportunity for homeowners in the Lakes Region to take advantage of this market. Summer 2022 is gearing up to be a very exciting, albeit competitive, season for people buying and selling homes."

FMI about Cumberland Title, call 207-893-9000 or visit www.cumberlandtitle.com. Find them on Instagram at cumberlandtitle and on Facebook at facebook.com/Cumberland Title. <