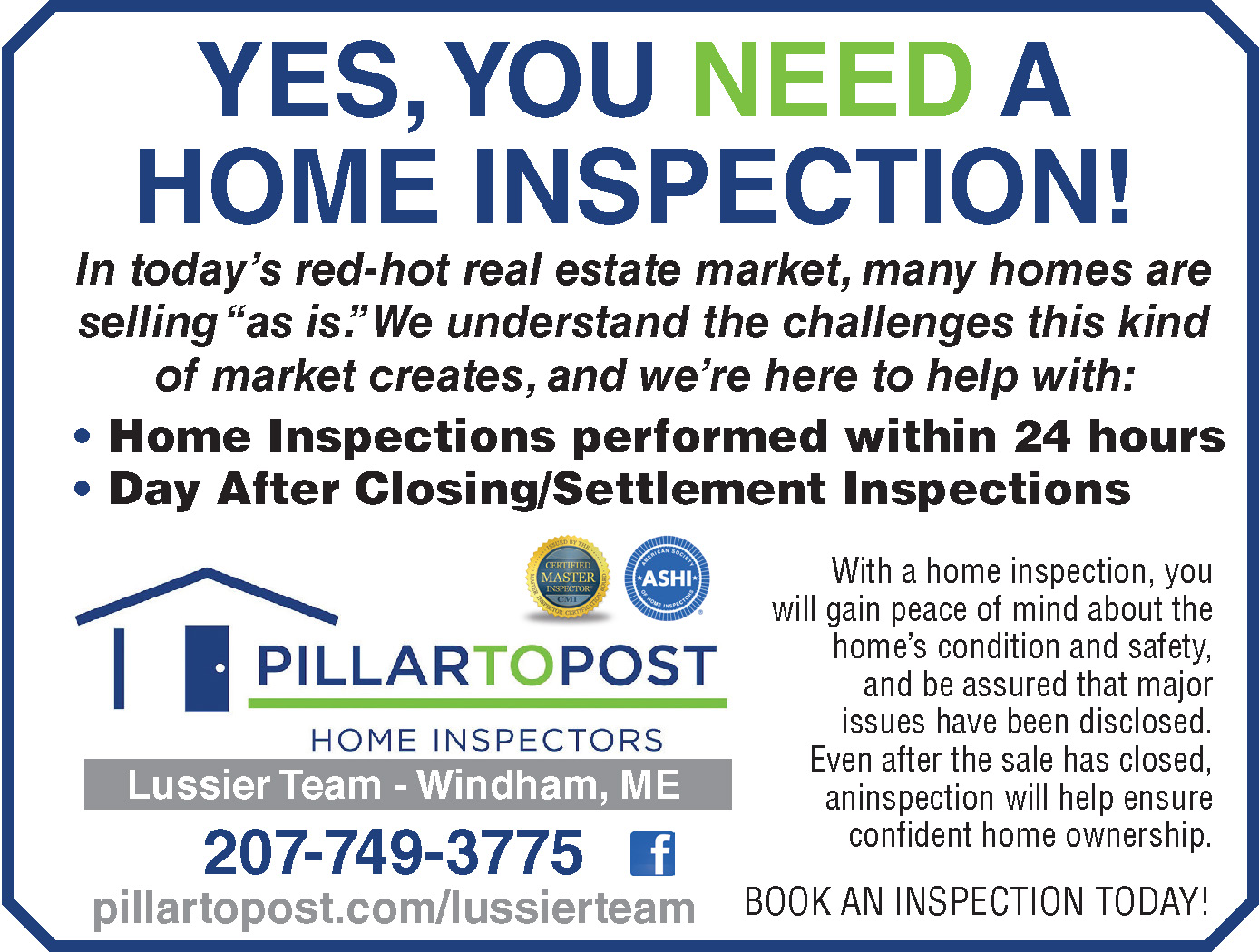 Listed by "Entrepreneur" magazine as one of the top 500 Franchises in the U.S., Pillar to Post Home Inspectors, located at 243 Roosevelt Trail, Suite #1 in Windham is the premier local home inspector service in Maine. Brandon Lussier, Franchise Owner and Operator and the rest of the Lussier Team and experts assist home buyers, home sellers, and real estate professionals in numerous ways, offering high quality inspections since December 2013.
In addition to being recognized by the well-respected magazine, out of the approximately 700 franchises throughout the U.S. and Canada, Pillar to Post's Lussier Team is in the top 15 of all. As a result, the company
prides itself on holding the highest standards for the home inspection business. The team has completed over 5,000 paid inspections and they also offer radon air, water quality testing, camera septic inspections, sewer scoping, mold, asbestos and lead testing.
Recently they have added virtual home inspections to their list of professional services.
"We are considered an essential business," began Brandon. "So, we are still here to provide certified home inspections and, in light of present circumstances with social-distancing, we also want to be mindful of keeping everyone safe and healthy and still assist home buyers and sellers in reaching their real estate goals. The virtual home inspections can make that happen."
Brandon stated that the Lussier Team can deliver these virtual
inspections thoroughly and comprehensively and – still – maintain a service that is highly personable. "Of course, it goes without saying that the in-person home inspection is still the preferable method, but the virtual inspection is a perfect alternative until the COVID-19 pandemic is behind us. Until then, the user-friendly virtual alternative is easy to understand and very intuitive to operate."
In this online home inspection program, the user will get the opportunity to see the result of the inspection from the comfort of their home. It includes the floor plan and a real -life version of the home and property. The user can easily navigate and take a 360-degree tour through the house, examining each room and level/floor, as well as a floorplan of the home with measurements. As one "enters" each room, a list of inspection notes will be displayed to the right of the screen. The tour, however, does not replace the official written inspection report which will be delivered through the mail.
"One amazing feature about this virtual inspection program is that you can share it with family, friends and contractors for those who are thinking about doing renovations," Brandon said. "And, you can go back and revisit the tour at any time. For some, this comes in handy as they decide on furniture placement, etc."
Both virtual and in-home inspections are performed by an unbiased and extremely detailed report which includes color photos. This report is printed on site before the inspector leaves, which is a unique service in the industry.
The inspection report will include the site location, the home's interior and structure, the plumbing systems, bathroom fixtures and components, built-in appliances, heating, cooling and electrical systems, the garage, basement, attic as well as kitchen components and the roof.
More importantly, all Pillar to Post Lussier Team inspectors
continually upgrade their skills and keep current with new technologies and professional standards
in order to examine all types of homes and residential structures in the Maine area. This includes anything from condominiums to single family homes, town homes, mansions, estates, historic residences and manufactured homes.
Brandon and the rest of the Lussier Team are your ideal home inspectors as they are fully licensed in the state of Maine for radon air/water, mold and lead testing, hold the highest standards for home inspectors as Lussier is a Certified Master Inspector. Additionally, the qualified and courteous professionals are appreciated by their clients for their ability to explain their findings in the right perspective so there is no undue alarm or concerns. And – with worries over the COVID-19 virus, the Pillar to Post home inspectors have gone above and beyond to alleviate apprehensions.
In fact, a recent review on the Pillar to Post website stated the following from one of their clients, a real estate agent: "
Amazing doesn't begin to cover this inspection. Remember, this is Coronavirus time. The inspectors wore their own booties and wiped down everything! They kept appropriate distance and did their job quickly and thoroughly. I am so impressed. After 21 years in this business and hundreds of inspections, I think that Pillar to Post has earned my gold star."
Let the Lussier Team of Pillar to Post Home Inspectors earn your gold star. They are at your service now and will continue to be providing services for years to come. For more information or to schedule your next home inspection, peruse their website at
www.lussierteam.pillartopost.com/
or call them at
207-749-3775
.