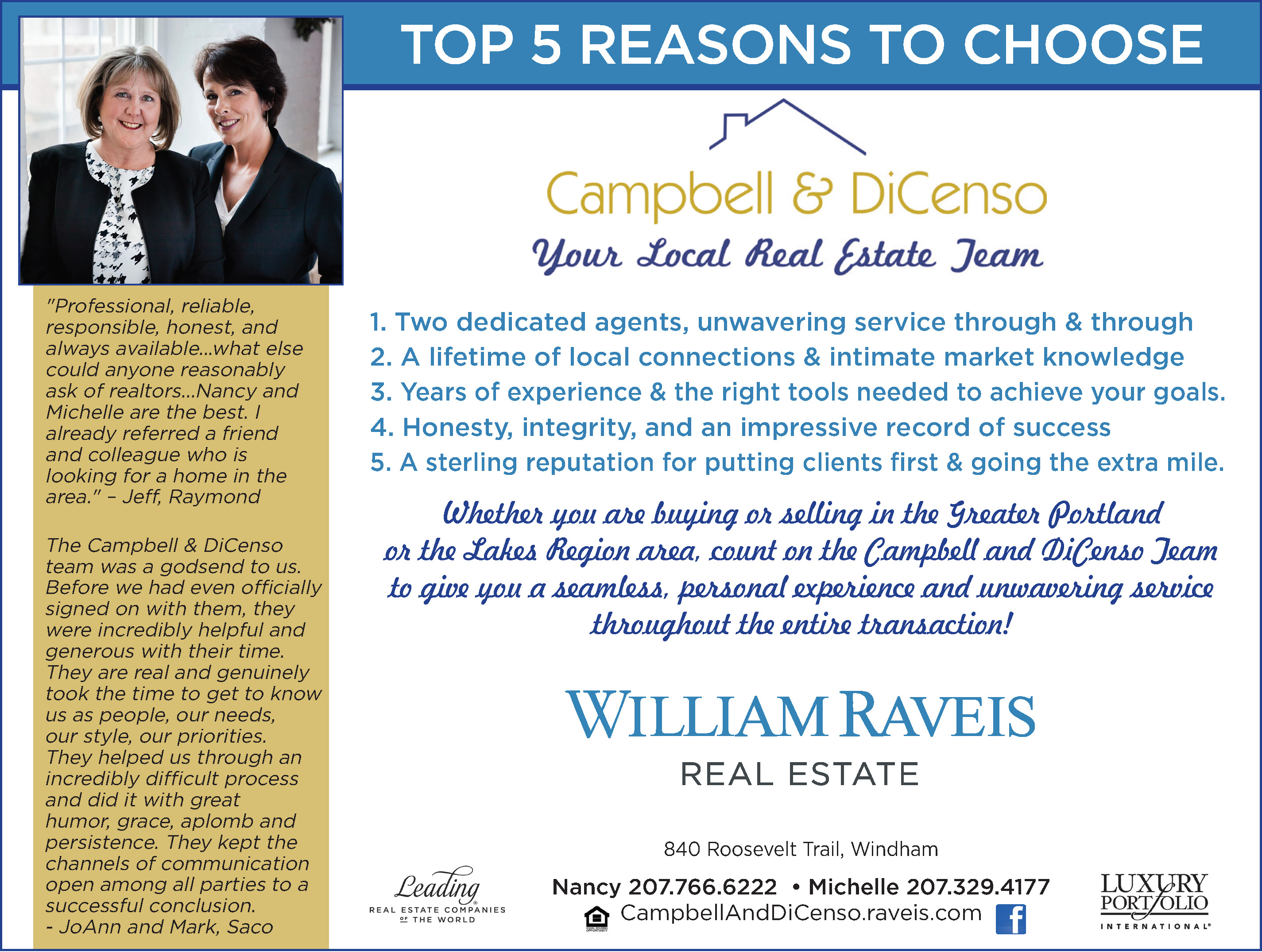 By Gayle Plummer
If you are in need of a real estate company, there is an effective one nearby that can help. It is local and has earned the title of #1 Family Owned Real Estate Company in the Northeast. William Raveis Real Estate's newest office is located in Windham but began in Connecticut in 1974; thus demonstrating that it has a long track record of success. If that's not impressive enough there is more: William Raveis has been named the Top Luxury Brokerage in the USA by Leading Real Estate Companies of the World. It is also the Official Real Estate Company for the Boston Red Sox.
Windham resident Ben Schulz, the Managing Broker, topped 10+ million in gross sales in 2018; making him one of the top producing local agents. This company, while successful in the big scene, is very much about community. Along with its local resident and Managing Broker, Ben Schulz, the Administration Manager for all of the Maine Raveis offices is Kelly Keenan, who is also a Windham resident.
Schulz states that, "William Raveis offers clients a combination of traditional and digital marketing platforms, so they can be assured their homes are being seen by the right people at the right time. Our many connections throughout the northeast create a natural awareness among folks from out of state who are looking for waterfront and high-end properties. All of our agents are empowered by a brokerage that is focused on their success and provides support every step of the way – so they can focus on selling homes and working closely with buyers. This is what creates and fosters a culture of excellence at every level for the client; no matter the price point of the property."
William Raveis strives to be a real estate resource for folks throughout the Lakes Region area who are looking to buy or sell properties. They utilize their significant, regional network of offices to make sure their listings are seen and marketed, in a personal way, to buyers throughout the Northeast and beyond. "At William Raveis, we believe in doing the right thing by our clients, and we are proud of our agents who conduct themselves with courtesy at all times, as this is the company's mantra," said Schulz.
The office is now open and ready to start working with people interested in selling their homes this year, as well as buyers who are ready to begin the journey of a home purchase. Call the office today at 892-3377 or email Ben at: Ben.Schulz@raveis.com.
Additionally the Windham office is currently looking to hire/partner with entrepreneurial agents that are looking to be a part of something bigger. Anyone interested in pursuing this type of approach can reach out to Ben Schulz (confidentially at 207-253-9372).
William Raveis is located at 840 Roosevelt Trail. To learn more about how they can help you reach your real estate goals, you can reach them by calling 207-892-3377 or emailing Ben at Ben.Schulz@raveis.com.