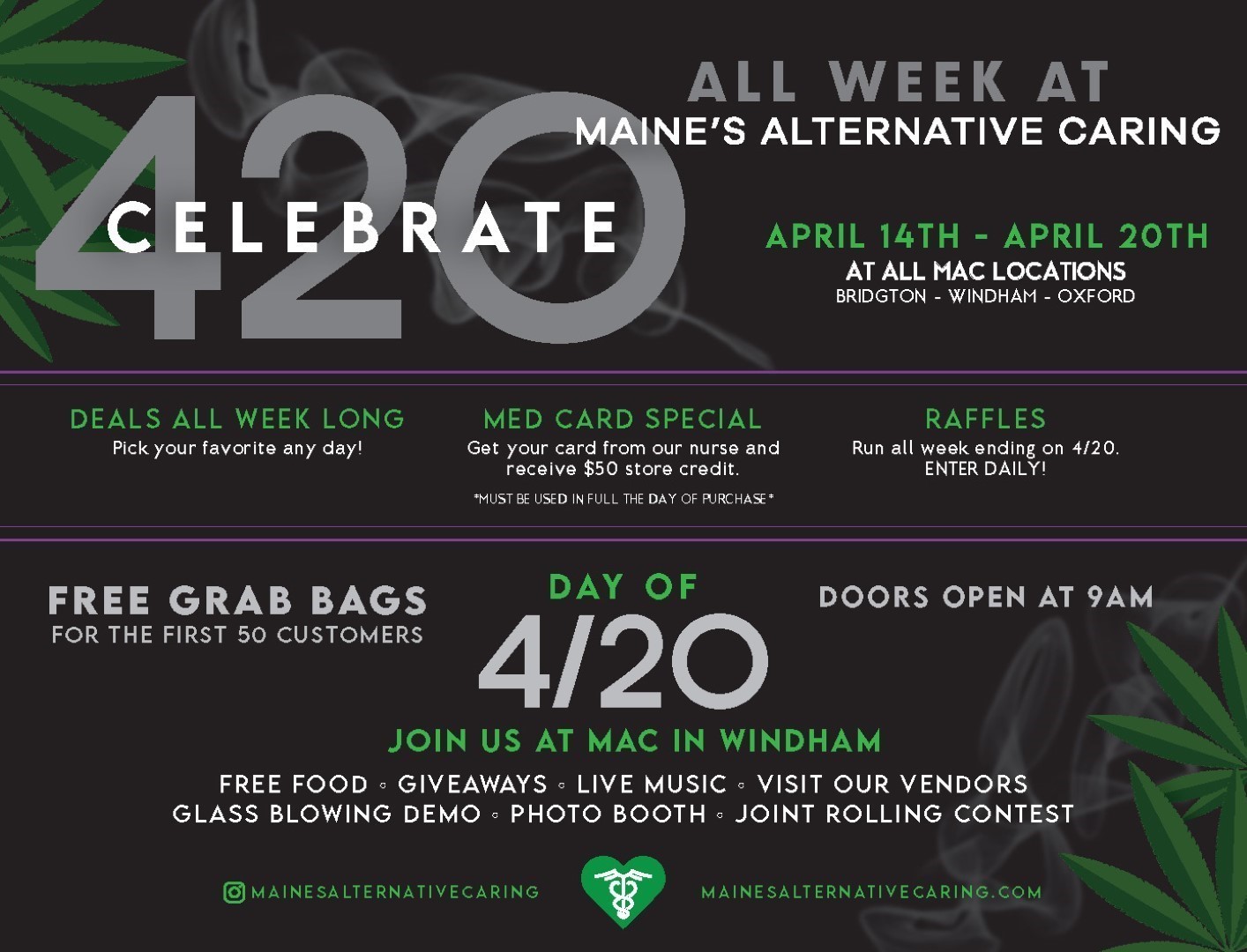 Maine's Alternative Caring (MAC) is the first of its kind medical marijuana caregivers store in Windham. Under the ownership of Will Hawkins, the business is here to support those who have a medical marijuana card and proper identification.
The store is located at 771 Roosevelt Trail in the shopping plaza near China Taste. Hawkins grows, produces and sells his own products. The store carries edibles, concentrates, THC topicals, and CBD products, which do not require a medical card. The dispensary also sells marijuana ice cream.
MAC carries 14 strains of plant with each one having a different feeling, smell and taste. Hawkins grows everything for the store. He knows where the plants came from - making it safer.

Those with a card experiment with different strains to find out what works for them, Hawkins said. The edibles are made in a commercial kitchen in Portland. The THC levels are calculated and monitored, whereas homemade blends are harder to calculate.
"Proper labeling is important," he said. "We're very precise."
The storefront has been open for two weeks and people are starting to find it.
There are 60,000 to 70,000 medical marijuana cards in the State of Maine. It's a voluntary registry so the numbers only take into account those who notified the state. There are 3,000 caregivers, 8 licensed dispensaries and 20 caregiver storefronts, which includes MAC, according to Hawkins. He obtained his retail license in November and to his knowledge it was the first in the state. He spent a lot of time working in the store to make it welcoming and friendly. The use of barnboards and mason jar lights gives it a rustic Maine look.
"I wanted to match the culture of the Sebago Lakes Region," Hawkins said. During the remodel he used local contractors and local supplies.
Owner, Will Hawkins
Finding the location was tricky. He had to rent in a building that the owner owned outright. He promised the town that he would have security around the clock, frosted windows and no neon signs.
"There were a lot of commitments I made to them. I want to ease the impact on Windham," Hawkins said. The two biggest concerns he had to overcome was the impact on children in the community and the burden on the police department. Hawkins believes that juvenile use will go down where there are stores like MAC.
"I am not selling gummies or lollipops," he said. "We're a marijuana company trying really hard to reduce access to kids." He is serious about making sure his business is safe for everyone. All purchases will be given in an exit bag, which is child proof.
"I want to make my customers feel safe, not intimidated," he said. "People aren't getting buzzed out front. The store is open, inviting and friendly." Hawkins' goal is to "change some minds" in the area about the medicinal use of marijuana. "We're not a head shop. We're not selling pipes."
He hopes to expand his offerings by helping people learn about cooking with and growing marijuana.
"We serve a population of this community that are so glad we're here," Hawkins said. "This is medical, not recreational. At the end of the day it is medicine. Not everyone is smoking it."
Hawkins is constantly watching the news and following the politics of legalizing marijuana in Maine. He is originally from Virginia but has lived in various places around the country. The law has changed three times in 2018. He feels it's a lot of responsibility, but he's up to the task. Hawkins has settled in Portland with his wife and two daughters.
MAC can be found on the app Weedmaps. Hawkins only sells to those with a medical marijuana recommendation.
The dispensary is open seven days a week from 10 a.m. to 8 p.m. On Thursdays, Fridays and Saturdays it is open until 9 p.m. By registering online with an ID and medical card, patients can call with an order and have it ready for pick up when they arrive. The whole menu is on the webpage.
For more information, visit www.MACWindham.com, find them on Facebook, or call 207-572-1603.